Diagnosis & Treatment
Brief Guide on Tuberculosis Control for Primary Health Care Providers for Countries in the WHO European Region with a High and Intermediate Burden of Tuberculosis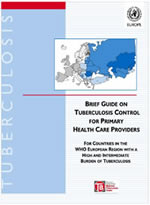 This guide has been written with the aim of developing the knowledge, awareness and skills of primary healthcare providers. Primary healthcare providers can play an important role in tuberculosis control through early detection of the disease, referral for treatment and involvement in directly observed therapy. This document is particularly relevant to primary healthcare providers in the countries of Eastern Europe, the Baltic States and the Commonwealth of Independent States (CIS). It is available in both Russian and English.
This material is available on-line only.

English (1.8 MB)

Russian (1.8 MB)
Caring for the Patient with Tuberculosis: What Clinicians in New Jersey Need to Know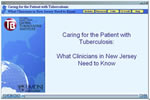 This video/slide presentation provides a comprehensive overview of the "Standards of Care for Tuberculosis Disease and Latent Tuberculosis Infection" from the NJ Department of Health and Senior Services. Additionally, it clarifies the role of the community provider in concert with the State's Tuberculosis Program. This program can be viewed in parts or all at once. It has been accredited for continuing medical and nursing education credits.

Web Presentation
Diagnosis and Treatment of Latent Tuberculosis Infection

Facility TB Profile for Targeted Testing and Treatment of Latent TB Infection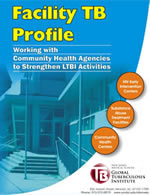 This resource will provide health departments with the ability to identify healthcare facilities in the community where targeted TB testing and treatment of LTBI are likely to be most successful and efficient. Used in conjunction with another product, Identifying Missed Opportunities for Preventing TB, health departments should be able to make a compelling case for strengthening activities in specific target facilities in the community.
This material is available on-line only.

View PDF
Additional documents (forms):
Guidelines for the Diagnosis of Latent Tuberculosis Infection for the 21st Century (2nd Edition)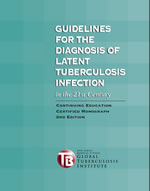 This scientific monograph, which was updated in 2008, discusses targeted tuberculin skin testing for latent TB infection as a strategic component of TB control. Specifically addressed are how to administer and interpret the tuberculin skin test with information about the test's specificity and sensitivity. There is also information about the QuantiFERON®- TB Gold In-Tube test and tuberculin sensitivity with mycobacteria other than M. tuberculosis. This monograph is certified for continuing medical and nursing education through the completion of a post-test and evaluation located at the end of the document.

View PDF (1 MB)

Order Now
Identifying Missed Opportunities for Preventing Tuberculosis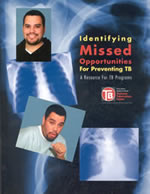 This manual is to be used with active TB cases to document the extent to which cases could have been prevented. The methodology identifies providers who served the patient prior to the TB diagnosis and points at which the provider failed to carry out targeted testing and treatment of LTBI recommendations. A questionnaire supplementing routine TB surveillance data is also included.
This material is available on-line only.

View PDF (3.9 MB)
Additional documents (forms):
LTBI Card: Patient's TB Testing and Treatment Record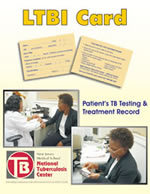 This wallet-sized card provides LTBI patients with a permanent record of their tuberculin skin test, chest x-ray and treatment status. Patients can carry the card at all times and show it whenever they are seen by a new healthcare provider. This card is available in PDF format and MS Word and is in multiple languages.
This material is available on-line only.

View PDF (4.1 MB)
Additional documents (forms):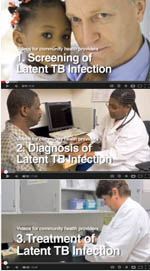 These 3 multimedia videos cover screening, diagnosis and treatment of Latent Tuberculosis Infection. The multimedia videos are targeted to community health providers, including those working at Federally Qualified Health Centers. The videos range from 6 to 15 minutes, and seamlessly incorporate images, voice and text. The videos can be viewed from a computer, laptop, smartphone or tablet, whether you are at home, work or on the go. Resources and transcripts are also available.
To view the videos, visit:
http://globaltb.njms.rutgers.edu/products/ltbimultimedia.htm
This material is available on-line only.
Management for Latent Tuberculosis Infection in Children and Adolescents: A Guide for the Primary Care Provider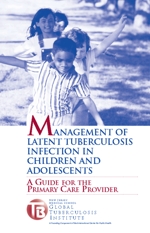 This handbook is a resource for primary care providers. Topics include targeted testing, risk assessment, and treatment of LTBI in children and adolescents. Originally developed in 2004, this product was updated in 2009 to include the most recent recommendations found in the American Academy of Pediatrics 2009 edition of the Report of the Committee on Infectious Diseases (Red Book). A one-page addendum describing an additional treatment option was added in 2014.
Additional documents (forms):
508 Compliant Version [PDF]
Booklet Version [PDF]
Outpatient Infusion Therapy for Multi-drug Resistant Tuberculosis: A Practical Guide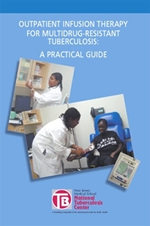 Infusion therapy offers an important treatment option for multi-drug resistant tuberculosis (MDR-TB) when long-term injectable medications are required. This resource provides practical guidance relating to the proper use of ambulatory infusion therapy for the treatment of MDR-TB. The guide offers a rationale for providing outpatient infusion therapy for MDR-TB in a clinic setting and describes how to organize the clinic to provide the therapy. In addition, it contains a wall chart, which summarizes the daily tasks for providing infusion therapy.
This material is available on-line only.

View PDF (4.4 MB)

Wallchart PDF (40 KB)
Tuberculosis Handbook for School Nurses
This handbook is targeted to school nurses, who can play an integral role in the screening and management of children with LTBI and TB disease. The booklet includes a section on TB fundamentals as well as suggestions for applying them in a school setting, including provision on DOT and working in collaboration with community providers in both the public and private sectors. The 2015 edition includes information on the 12-dose regimen for treatment of LTBI and updated recommendations and epidemiologic data.

View PDF (620 KB)

Order Now
Additional documents (forms):
Treatment of Tuberculosis in Adult and Adolescent Patients Co-infected with the Human Immunodeficiency Virus (HIV)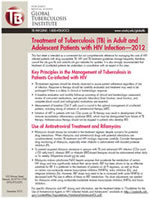 This fact sheet is intended as a convenient but not comprehensive reference for managing the care of HIV-infected patients with drug-susceptible TB. It provides basic principles of treatment including drug interactions, oversight of medical care, and staggering of drugs in treatment naive, co-infected patients.

View PDF (1.5 MB)
Treatment of Tuberculosis: Standard Therapy for Active Disease in Adults & Adolescents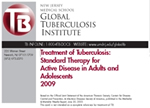 Treatment of Tuberculosis: Standard Therapy for Active Disease in Children
This pocket-size drug treatment card for clinicians provides information on standard anti-tuberculosis therapy for active disease in children, including dosages, daily and intermittent regimens, side effects, treatment information and visual depictions of first-line medications. This edition of the card was updated in 2015.

View PDF (1.5 MB)

Order Now