Incorporating Tuberculosis into Public Health Core Curricula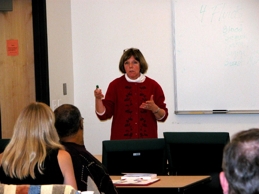 The New Jersey Medical School Global Tuberculosis Institute, one of four Regional Training and Medical Consultation Centers funded by the Centers for Disease Control and Prevention, has developed TB-related teaching materials for use in core courses of MPH programs, using the Association of Schools of Public Health (ASPH) core competencies for public health disciplines and interdisciplinary domains.
This document includes a series of TB-related case studies, fact sheets and PowerPoint presentations. They were developed for use in core courses in the disciplines of Biostatistics, Epidemiology, Environmental Health Sciences, Health Policy and Management, and Social and Behavioral Sciences and to illustrate the cross-cutting domains of Communications and Informatics, Diversity and Culture, Program Planning and Public Health Biology. These materials do not require that instructors have prior knowledge of TB.

DISCLAIMER: The materials on this website are in the public domain and may be used and reprinted without permission for educational purposes. Further reproduction of copyrighted materials, for other than educational purposes, is prohibited without the specific permission of copyright holders.