The first signs of spring have arrived in the Northeast after another long winter. Here at GTBI, in addition to flowers, birds, and warmer temperatures, spring brings World TB Day and the first in-person trainings of the year. This year GTBI held a number of World TB Day Events, including two Grand Rounds, a symposium, and, in collaboration with the New York City Department of Health and Mental Hygiene, Bureau of TB Control, the Annual New York City World TB Day Conference. We also collaborated with the New York program and others on the 3rd annual New York City World TB Day Walk. You can read more about these events in this newsletter. Our first on-site course of the year, the TB intensive Workshop also takes place in April.
This year spring is also bringing some additional changes to the GTBI team. I am delighted to announce the arrival of Mitchell Gayer as Deputy Director of the Institute. Mitchell comes to GTBI with more than 20 years of public health and administrative experience. Please read the profile in this newsletter to learn more about Mitchell. DJ McCabe, our long time nurse educator who was also the most recent editor of this newsletter, just retired after a career spanning more than 30 years in public health and Nisha Ahamed, our training director for the last nine years, is also leaving her position in April. The process of identifying new staff is already underway and I look forward to introducing you to the newest members of the GTBI family in the next edition of this newsletter.

This is an exciting time for GTBI, as the experience and perspective of new team members presents a unique opportunity to develop strategies and approaches for TB training and medical consultation, in conjunction with key stakeholders in TB Programs. l look forward to working with Mitchell and the entire GTBI team as we continue to collaborate with you all on TB training and medical consultation activities in the Northeast. All of these changes notwithstanding, the GTBI team is busy gearing up for an exciting year of TB-related activities; I hope to see you at some of our upcoming trainings.
Sincerely,
Alfred Lardizabal, MD
back to top

New York City World TB Day Conference - March 20, 2015: A Patient-Centered Approach to TB Control: Current Perspectives and Future Visions
To commemorate World TB Day, GTBI once again collaborated with the New York City Department of Health & Mental Hygiene (DOHMH) Bureau of TB Control and planned a conference for healthcare professionals. The focus this year was on providing patient-centered care to individuals with TB.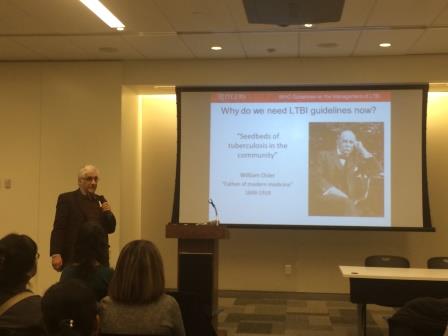 Dr. Lee Reichman spoke about the World Health Organization guidelines for treating latent tuberculosis infection at the conference.
Speakers and topics were carefully chosen to address the needs of the more than 160 TB healthcare professionals in attendance. In addition to patient management, topics such as TB and diabetes, an update of NY City epidemiologic data and WHO guidelines for treatment of LTBI were addressed. The conference ended with a panel discussion that included a former patient, a TB physician, a Public Health Advisor, and a post-doctoral research fellow in Global Mental Health. They discussed components of an effective patient-provider relationship and strategies to overcome potential barriers to developing such relationships. The panel discussion and the entire conference were well-received and the conference was deemed a great success!
Submitted by: DJ McCabe, RN, MSN – Trainer and Consultant – Clinical Programs
New York City World TB Day Walk - March 21, 2015
The third Annual New York City TB Walk, attended by over 200 people, took place the following day. An awareness-raising walk led by Batala NYC, an Afro-Brazilian drum band, took us from Washington Square Park to Projective Space in the Lower East Side.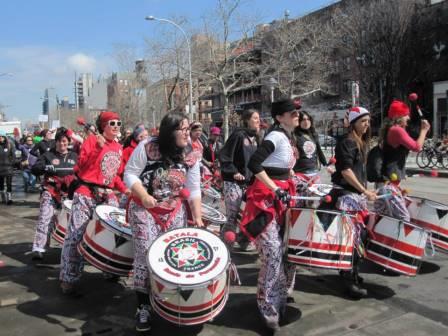 Batala NYC led the way through the streets of Manhattan.
An educational rally followed with a diverse roster of speakers, including Manhattan Borough President, Gale Brewer as well as individuals personally affected by TB. The New York City DOHMH and community organizations provided educational materials and information on accessing community resources. This inspiring event united a diverse group of community stakeholders to build partnerships, educate the community and raise awareness that TB is still a significant health issue in New York City and around the world.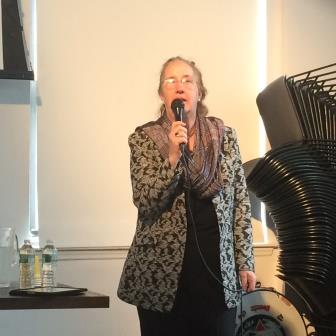 Manhattan Borough President, Gale Brewer spoke at the rally.
Submitted by: DJ McCabe, RN, MSN – Trainer and Consultant – Clinical Programs
back to top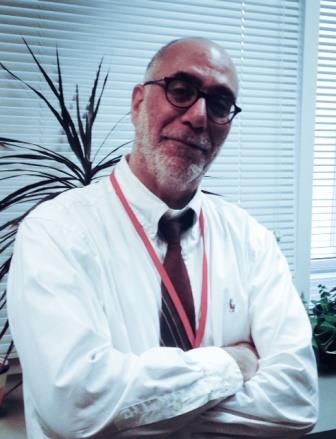 When Mitchell Gayer started as Deputy Director of the Global Tuberculosis Institute on March 16th, he was coming back to a field that had a special place in in his heart and his career. Mitchell, who holds an MPH in Environmental Sciences from Columbia University, an MS in Occupational Health and Safety from Hunter College and has completed the coursework for DrPH in Environmental and Occupational Health at the UMDNJ School of Public Health, comes to GTBI from the Environmental and Occupational Health Sciences Institute (EOHSI), an environmental health research institute of Rutgers University. He has held a number of administrative positions at EOHSI, most recently, Associate Director. However, from 1993 to 2000, Mitchell served as Environmental Consultant at the New York City Department of Health and Mental Hygiene (DOHMH), Bureau of Tuberculosis Control where his main role at was to investigate the environmental component of nosocomial TB transmission in congregate and health care facilities. He also implemented environmental and infection control protocols at the Bureau's Chest Clinics. From 2000 to 2005 he maintained a consulting relationship with the DOHMH, and occasionally consulted on Chest Clinic projects.
Now that Mitchell is back in the world of TB as GTBI's Deputy Director, he has been attending webinars, Grand Rounds, and other training events and notes that in some ways things have not really changed all that much. He commented that "there are some new drugs and some new diagnostic tools, but the elements of an effective TB-Control program remain remarkably consistent with what I remember previously". Mitchell's main focus in his first month at GTBI has been to gain an understanding of the administrative elements of GTBI's operations. Considering the multiple funding streams and requirements, including institutional, state, and federal, this is no small task!
Mitchell's previous position at the university and his background and focus on scientific research gives him a unique perspective on potentials areas for GTBI's growth and expansion. He notes there are many departments and institutes at Rutgers with nationally and internationally known scientists conducting TB research. He hopes to reach out to some of these varied and disparate groups and bring them together to talk TB, and explore potential collaborative efforts that leverage the skills and knowledge of all partners.
Even in the short time he has been here, Mitchell's dedication and motivation has already been in evidence - he travelled to the annual CDC /RTMCC Round-Robin Meeting at the Southeastern National TB Center, even before his official start here at GTBI! He was struck by the warm collaborative atmosphere at the meeting and the sense of partnership between the five RTMCCS and the CDC. Mitchell also notes that the entire GTBI team has been very welcoming and supportive and that it is a very closely knit group, much like a family! Mitchell is already fitting right in to the GTBI family, as evidenced in the below picture with Dr. Reichman from the 3rd Annual New York City World TB Day Walk!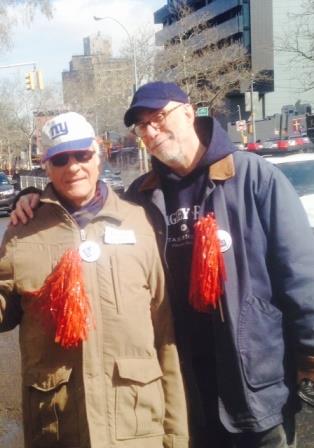 In his spare time Mitchell enjoys, hiking, gardening and working on home repair and restoration projects in his century-old home. When asked about his return to TB after a long absence he replied indicated that he was very happy to be back working in TB Control. He is looking forward to the annual National TB Controllers Association Meeting in June, where he hopes to get to know TB Controllers, Program Managers, Nurse Consultants, and other key staff from TB Programs in the Northeast. He added, "I can honestly say that the time I worked in TB was the most rewarding work experience that I've had and I'm hopeful that my experience at GTBI will be similar."
Dr Lardizabal, GTBI's Executive Director has already commented how grateful he is that GTBI's Deputy Director has such "extensive experience in academic and scientific administration" paired with a knowledge of and passion for TB prevention and control. With these qualities along with his genial personality, intelligence and dedication, Mitchell is sure to have a positive and lasting impact on GTBI!
Submitted by Nisha Ahamed, MPH – Program Director, Education and Training
Changes in the Training Department: A Note from the Training Director
After many interesting and fulfilling years at Global Tuberculosis Institute, I will be stepping down from my role as Training Director as of April 17th. After this time training-related questions and comments may be addressed to Anita Khilall, Senior Training and Consultation Specialist at khilalan@rutgers.edu or Mitchell Gayer, Deputy Director at mgayer@njms.rutgers.edu.
Working in the TB field here in the Northeastern region of the US has been an incredibly inspiring and humbling experience. Throughout the years, I have been able to meet so many people working on the front lines of public health who consistently go above and beyond what might be expected in order to protect the health of the public and to meet the needs of their patients, who are often among society's most vulnerable. It has been a great pleasure to work with you on TB training and educational products over the last twelve years; I thank you all for your partnership and collaboration and wish you well in your continued efforts in TB prevention and control here in the Northeast!
Submitted by Nisha Ahamed, MPH – Program Director, Education and Training
Retirement: DJ McCabe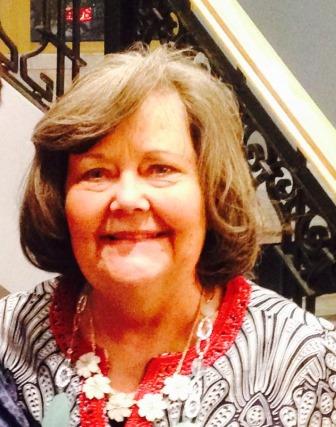 Dorothy (DJ) McCabe retired from GTBI last month after almost 15 years at GTBI. She had extensive nursing and TB experience prior to that, having worked at the School of Nursing at the University of Medicine and Dentistry of New Jersey for several years. She had also been the Public Health Nurse in Irvington, NJ for 17 years, including 7 years supervising the TB control program there. Given all of this background and experience, DJ's contributions to GTBI are too numerous to describe in detail! Her expertise and insights have shaped and influenced many trainings for public health nurses in the region. She also coordinated the development of many of GTBI's educational products for nurses, and the CDC booklet Latent Tuberculosis Infection: A Guide for Primary Health Care Providers.
DJ has also had a lasting influence on the next generation of health care providers through her efforts planning and coordinating rotations for the many nursing students, medical students, residents and fellows who come through the doors of the Global Tuberculosis Institute. DJ has a special touch with students, not only ensuring a complete clinical experience, but allowing students to see the human face of disease. Many of these students have commented on the amount of one-on-one attention that DJ has provided for them, her compassion and her commitment to ensure that they have a comprehensive and useful learning experience.
No discussion of DJ would be complete without mention of her kindness, generosity, and warmth. DJ, who is the proud mother of three and grandmother of six, made the training staff feel like part of her family with her kind demeanor, sound advice, and quick wit! In addition to spending more time with her friends and family, DJ, who is an accomplished equestrian, is looking forward to returning to horseback riding during her retirement. DJ being DJ; she is also looking for some type of volunteer opportunity where she can put her nursing and education skills to good use! We already miss DJ in the training department, but wish her much happiness in her retirement!
Submitted by Nisha Ahamed, MPH – Program Director, Education and Training
back to top

The New Jersey Medical School Global Tuberculosis Institute (GTBI) sponsors courses and web-based seminars on tuberculosis. GTBI web-based seminars are open to all participants in the United States. For in-person courses, GTBI prioritizes participants from the Northeast Region (Baltimore, Connecticut, Delaware, Maine, Maryland, Massachusetts, New Hampshire, New Jersey, New York City, New York State, Pennsylvania, Philadelphia, Rhode Island, Vermont, and Washington, DC), which is served by GTBI.

Click here for the list of upcoming courses.
back to top

GTBI faculty and staff respond to requests from healthcare providers seeking medical consultation. We also provide consultation on nursing, case management and contact investigation issues on request. Consultants can be reached by calling the TB Info line: 1-800-4TB-DOCS or by email.

During each consultation, the GTBI consultants will advise callers about resources/TB Programs in their jurisdiction. In addition, TB programs will be informed of TB cases with public health implications such as MDR/XDR-TB, pediatric TB in children <5, or potential outbreak situations.

More information about our consultation service, including downloadable Core TB Resources, can be accessed at http://globaltb.njms.rutgers.edu/services/medicalconsultation.html
back to top

Division of Tuberculosis Elimination
The mission of the Division of Tuberculosis Elimination (DTBE) is to promote health and quality of life by preventing, controlling, and eventually eliminating tuberculosis from the United States, and by collaborating with other countries and international partners in controlling tuberculosis worldwide.
Find TB Resources Website
This website provides a central, comprehensive searchable database of international, national, state, and local TB-related education and training materials for TB healthcare workers, health professionals, patients, and the general public. Users can also submit their education and training materials as well find information on funding opportunities, TB organizations, TB mailing lists, and TB images.
TB Education & Training Network (TB ETN)
The TB Education and Training Network (TB ETN) was formed to bring TB professionals together to network, share resources, and build education and training skills.
Regional Training and Medical Consultation Centers' TB Training and Education Products
This website provides a searchable list of all RTMCCs' resources.
TB Wire Newsletter
Contents include:
Announcements
Washington Update
Linkable Journal Abstracts
Resources/Training
Selected TB Reports
Grants, Job Opportunities
Meetings, Conferences & Events
To subscribe to this service, click here
Other RTMCCs
The Curry International Tuberculosis Center serves: Alaska, California, Colorado, Hawaii, Idaho, Nevada, Oregon, Utah, Washington, Federated State of Micronesia, Northern Mariana Islands, Republic of Marshall Islands, American Samoa, Guam, and the Republic of Palau.
The Heartland National Tuberculosis Center serves: Arizona, Arkansas, Kansas, Louisiana, Missouri, New Mexico, Nebraska, Oklahoma, and Texas.

The Mayo Clinic Center for Tuberculosis serves: Illinois, Indiana, Iowa, Michigan, Minnesota, Montana, North Dakota, Ohio, South Dakota, Wisconsin, and Wyoming
The Southeastern National Tuberculosis Center serves: Alabama, Florida, Georgia, Kentucky, Mississippi, North Carolina, South Carolina, Tennessee, Virginia, Puerto Rico, West Virginia, and the U.S. Virgin Islands.
back to top

Alfred Lardizabal, MD - Executive Director
Mitchell Gayer, MS, MPH - Deputy Director
Amee Patrawalla, MD - Medical Director
Bonita T. Mangura, MD - Director of International Activities
Nisha Ahamed, MPH - Program Director, Education and Training
Lee B. Reichman, MD, MPH - Senior Advisor
back to top