It was nice to see many of you at the National TB Controllers Association conference last month in Atlanta. The GTBI team always enjoys the chance to connect with TB controllers and program staff in our region and nationally at this meeting; this year it was also a great opportunity for some our new staff to meet you all. As you know from our last few newsletters, the last several months have been a time of transition for GTBI, and I'm pleased to announce that we have made several personnel changes, some of which you will read about in this newsletter. Anita Khilall has taken on the role of Program Director of Education and Training. Many of you know Anita from her 12 years in the Training Department at GTBI, and are familiar with her TB and training expertise, professionalism, and dedication; I know that she will excel in her new role. Patty Woods has joined the training team as Nurse Educator, and Arpita Jindani is now on board as our new Health Educator. Please join me in congratulating Anita and welcoming Arpita and Patty to the GTBI team.

With the addition of these new staff members along with our dedicated and talented existing team, GTBI is diving into our TB training and medical consultation activities for this year, and planning our activities for 2016. We look forward to continuing to work with you all, our partners in the region, to meet training and medical consultation needs in the Northeast.
Sincerely,
Alfred Lardizabal, MD
back to top

Recognizing a Milestone in New England Educational Conference
The 10th Annual New England Clinician's Conference was held on May 7, 2015 at Clark University in Worcester, MA. This conference marked a milestone in TB education for clinicians in the New England region, which is particularly important for sustaining clinical expertise at a time of declining TB incidence. Historically, the conference has rotated to various New England states to draw from local experts as well as promote learning and networking opportunities in different locations.
The strengthening of existing RTMCC collaborations and forming new partnerships with diverse professional organizations has been a key factor in widening the reach to clinicians in a variety of practice settings throughout the New England region. As a result, the 2015 conference was a huge success with the highest conference attendance to date including 108 participants from Connecticut, Massachusetts, New Hampshire, New York State, Rhode Island and Vermont.
This type of advanced level conference continues to be an effective way to provide updates on the clinical, laboratory, and public health aspects of TB to clinicians in different specialties. Dr. John Bernardo (Massachusetts Department of Public Health) opened the conference with an overview and a case presentation that highlighted why clinician's need to "think TB." Dr. Elizabeth Talbot (New Hampshire Department of Health & Human Services) reviewed the most important recent advances in TB, which showed areas of progress and research needed to stay on track for the elimination of TB. Dr. Niaz Banaei (Stanford University School of Medicine) discussed the accuracy and variability of IGRAs and interpretation of test results in specific situations. Dr. Lynn Sosa (Connecticut Department of Public Health) shared her experience on the implementation of 3HP for treatment of TB infection in Connecticut, emphasizing the success of the regimen and its application in the community health setting. Dr. Jane Carter (Brown University) and Cindy DeLuca, MSN, RN (South Shore Hospital) co-presented on the topic of TB and pregnancy by setting the context with an overview talk and a case discussion that demonstrated the multi-disciplinary approach to TB care for a pregnant patient. Tracy Stiles, MS, M(ASCP) (Massachusetts Department of Public Health Hinton State Laboratory) provided a laboratory update with a focus on testing methods that use newer technology for faster, more accurate results and their impact on medical and public health management of TB patients.

A panel on managing complex TB cases featured three cases presented by physicians in the region on the topic of drug resistant TB and a perinatal TB transmission. The format followed a moderated discussion by TB experts and questions from the audience. Of note, one of the cases revealed the rich context of providing TB care which was emotionally moving for the participants. This was a great way to close out the conference as it served as a reminder of what an important role nurses, physicians and public health staff play in the lives of TB patients!
Similar to previous years, the faculty expertise, topics and case discussions contributed to the strength of the conference. We continue to incorporate evaluation feedback as well as new updates in TB to improve future offerings of this conference. We look forward to bringing together clinicians in the region for another successful conference next year!
Submitted by Anita Khilall, MPH – Program Director, Education and Training
back to top

Product Updates: FQHC Tool Kit
GTBI is pleased to announce that the initial version of our online TB Toolkit for Community Health Centers and Federally Qualified Health Centers is now available on our website. The toolkit can be accessed at: http://globaltb.njms.rutgers.edu/educationalmaterials/tookitfqhc.html
This toolkit is part of set of toolkits developed after discussion between CDC DTBE and the RTMCCs. Each center was designated to take the lead on a toolkit addressing specific identified national needs. Over the last several years, the need for building bridges and reaching out to private and community providers on TB, especially LTBI, has emerged as an important topic in national and regional assessments and in interactions with you, our colleagues at TB Programs. There was particular emphasis on the need to collaborate with Community Health Centers (CHCs) and Federally Qualified Health Centers (FQHCs). GTBI has developed products and webinars for this audience in the past and was asked to take the lead on development of a Toolkit for Community Health Centers/Federally Qualified Health Centers.
This web-based product includes existing tools that can be used both by TB Programs for outreach to community health centers, and those that can be used independently by providers. The toolkit is separated into two sections, one for TB Programs and one for CHCs and FQHCs. Each page includes tools (including products or trainings), links, descriptions and suggestions for their use. The GTBI team carefully reviewed existing products and webinars; it is important to include relevant materials, but at the same time be careful not to create a website that it is overwhelming. For this reason, the page for CHCs and FQHCs is broken down into sections on background material, trainings, and resources and reference materials. Over the last several months, GTBI has shared the initial version of the toolkit with TB Programs, HRSA's Bureau of Primary Health Care and the Association of Primary Health Care Providers and other stakeholders to gather feedback on the content and input on additional tools for inclusion as well as need for development of new tools/resources.
The beauty of the online toolkit is that it is a living document and can be easily updated to make improvements or if new tools become available. We invite you to review and use the toolkit, and let us know what you think. If you have any suggestions for changes, inclusion of other existing tools, or the development of a new tool, please contact Anita Khilall. If a need for new tools is identified, GTBI can begin targeted needs assessment, development and pilot-testing of new tools. We look forward to continuing to improve this toolkit in years to come.
Submitted by Nisha Ahamed, MPH
A Note from the new Training Director
In all my years at the Global TB Institute, it has been my interactions with the clinical, nursing and public health staff working in TB that have helped to shape my knowledge, experience, and enthusiasm for TB. I look forward to continue working with our regional and national TB control partners in my new role as Training Director. This is an exciting and unique time in TB and at GTBI as we build on the foundation of what others before us have accomplished and bring new perspectives for forging ahead. I feel fortunate to be able to play a role in the continued success of the Institute.
Submitted by Anita Khilall, MPH – Program Director, Education and Training
back to top

Profile: Kimberly Fitzpatrick - Program Manager and Statewide TB Controller, Commonwealth of Pennsylvania, Department of Health
If you happen to have a casual conversation about with Kimberly Fitzpatrick, the Tuberculosis Control Program Manager for the State of Pennsylvania, you will never guess that she has been in the field of Tuberculosis (TB) for just over a year. She demonstrates tremendous knowledge on the topic and she is well versed with the administration and management of TB control.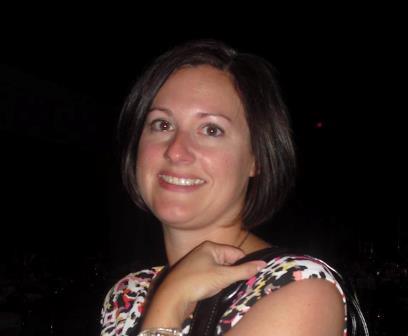 It is interesting to follow Kim's career trajectory which eventually led her to TB control. Kim got her bachelor's degree in Elementary Education from Pennsylvania State University and started working as a child abuse investigator at Dauphin County Social Services, Pennsylvania. Later, she joined the Bureau of Drug & Alcohol Programs, PA as a program representative and was promoted to a program supervisor within that department. After 4 years in this position, she was looking for her next challenge and that brought her to the world of TB control. If one looks closely at Kim's resume, it is very evident that she thrives in a challenging work setting. According to Kim, "I think my educational background in elementary education and my extensive case management experience as a child abuse investigator has served me well in my new position. It is important to be able to communicate effectively in challenging situations."
Kim, "I think my educational background in elementary education and my extensive case management experience as a child abuse investigator has served me well in my new position. It is important to be able to communicate effectively in challenging situations."
When asked if any particular aspect of TB stood out for her when joined her current position, Kim responds, "What struck me the most is how complicated TB can be as a disease! It encompasses a variety of medical and social issues that require effective collaboration among state and local health departments, physicians, nurses, public health field workers, social services providers, and refugee coordinators." Once TB is diagnosed, there is a continuum of care that begins with treatment and medical management, case management services including the need for cultural sensitivity and understanding barriers to the successful completion of treatment, Directly Observed Therapy (DOT), and other supportive services.
Kim adds that tuberculosis is equally perplexing from the patient's viewpoint because there is a lot for them to navigate in addition to long treatment regimens.
Kim believes that one of the challenges she faces in her role is that every day is different and every case is different. In her words, "I think case management has to be comprehensive and collaborative. If we want a patient to successfully complete their treatment we have to make sure their daily needs are met or else they will not be adherent. For example, if the patient has to worry about their next meal or housing, they will not able to focus on taking the medications."
Kim also enjoys the fact that every day is different in the field of TB. She is constantly looking for and finding ways to be more efficient. Kim gushes with excitement about the cohort review process as she states, "I love cohort reviews from the quality improvement and learning aspect. As administrators, we have the ability to make policies that can actually help patients. However, during a cohort review I always have to reinforce that it is not directed at an individual or staff. The goal of a cohort review is to identify gaps and make improvements in the process." If you find the words 'cohort review' thrilling, then you are a TB geek and we conclude Kim is certainly one!
We asked Kim, what advice would you have for a health care professional who is new to the TB world? Kim readily answered, "Absorb every bit of information and engage in the learning opportunities available to you. Take advantage of all the resources out there to give you a full comprehensive approach to TB. RTMCCs like the Global Tuberculosis Institute are a fabulous resource." Full disclosure: we did not ask her to mention us but we are delighted that she thought of our RTMCC as a fabulous resource!
It was hard to take Kim away from the topic of TB but we enjoyed learning about her other interests. She loves spending time with her family, enjoys watching sports and loves to read. She has two dogs Bentley and Jazmin whom she adopted from a shelter and they certainly keep her very busy.
Submitted by Arpita Jindani, MSW, MA
back to top

We are thrilled to announce new additions to our GTBI family; Patricia Woods and Arpita Jindani recently joined GTBI.
Patricia Woods is our new Nurse Educator who comes to GTBI with her innovative ideas and over 15 years of experience in tuberculosis. 'Patty' for those of you who already know her was previously a TB Nurse Consultant for the New Jersey Department of Health TB Program. Prior to working for State, she worked as a TB nurse case manager at the county level. Patty is a registered nurse and received her Master of Science in Nursing from Kean University, New Jersey. She has been a frequent guest speaker sharing her nursing perspective at past GTBI trainings and other TB forums and is currently Chair of the Education Committee with the National TB Nurse Coalition. In her new role at GTBI, Patty wants to take a comprehensive approach and use her clinical experience to develop educational programs that also focus on the social and cultural aspects of TB. Patty is also a pet enthusiast and an avid animal lover. In addition to her husband Jim, she has a family of 2 dogs, 2 cats, 5 turtles, a koi pond and a salt water fish tank.
Arpita Jindani is our new Health Educator. Before joining GTBI she worked as a Program Manager at the Partnership for Maternal Child Health of Northern New Jersey where she designed and implemented successful marketing campaigns to promote immunizations. Arpita has over 10 years of experience in public health. Her educational background includes a Masters in Social Work and a Masters in Health Communications which makes her well positioned to take on her new role. Although Arpita is new to the world of TB, her enthusiasm for TB is refreshing. She brings fresh ideas and energy to the Education and Training Department, including a keen interest in global health and TB. In her new role at GTBI, Arpita hopes to develop compelling trainings programs and products on tuberculosis with the goal of impacting changes in practice. Arpita's other interests includes cooking vegetarian food and kickboxing.
Please join us in welcoming Patty and Arpita to GTBI and we hope you will have the opportunity to work with them in the near future. Here is their contact information:

Patricia Woods, RN, MSN
Trainer and Consultant, Clinical Programs
Tel: 973-972-0978
Email: patty.woods@rutgers.edu
Arpita Jindani, MSW, MA
Health Educator
Tel: 973-972-4811
Email: arpita.jindani@rutgers.edu
back to top

At the National Tuberculosis Controllers Association (NTCA) conference held in June, 2015, Stephen Hughes, Nancy Baruch and Jane Moore each received an Award of Appreciation from the Division of Tuberculosis Elimination (DTBE), Centers for Disease Control and Prevention for their leadership and contributions to the National Tuberculosis Indicators Project (NTIP), 2011-2015.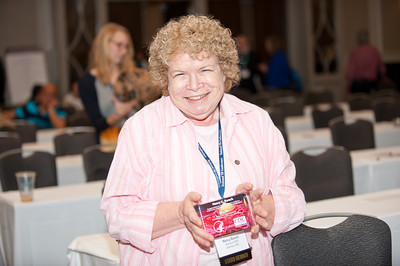 Congratulations, Nancy!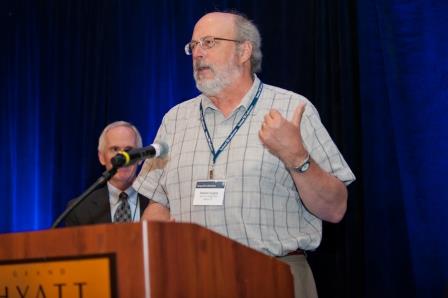 Stephen Hughes accepting his award.
Background:
NTIP is a decade-long vision of the Evaluation Working Group (EWG), a workgroup formed over 10 years ago consisting of local TB program staff interested in learning about and putting into practice processes that would improve the effectiveness of our work in TB prevention and control. NTIP encompasses the vision that all TB control programs regardless of size or resource capacity would have a tool that would enable staff to utilize their surveillance data for monitoring and evaluation.

In 2007, a subgroup of the EWG branched off to focus their efforts on the development of NTIP – the goal of which was to standardize TB indicators across TB programs in the United States. The web-based NTIP system was rolled out in March 2009. Subsequently, in 2010, the national TB objectives or indicators became required reporting components of CDC TB cooperative agreement grants, which provide federal public health funds for TB control activities.
Since 2011, members of the current NTIP Workgroup, including the award recipients, have been reviewing suggestions and comments from NTIP users at state and local TB programs throughout the country and making recommendations based on feedback about the NTIP system, indicator definitions, and other programmatic and technical aspects of NTIP. These recommendations have been implemented over the past 4 years and are reflected in the recently developed NTIP User Guide as well as the national TB objectives and 2020 performance targets.
Highlights of the changes made to NTIP indicators:
Excluded patients who moved out of the country from the completion of treatment indicator.
Excluded patients with TB in bone, the skeletal system, and the central nervous system from the completion of treatment indicator.
Included ethambutol results in the initial drug susceptibility testing indicator.
Accepted rifabutin as an alternative drug to rifampin in the recommended initial 4-drug regimen indicator.
Clarified and refined the Report of Verified Case of Tuberculosis (RVCT) variable definition for sputum culture conversion, and emphasized the importance of monitoring culture conversion within 60 days of treatment initiation.
Changed the cohort of the immigrants and refugees indicator, so the calculation is based on the date health departments were notified of immigrants and refugees arrival rather than the date arrived in the United States.
Included and clarified the need for treatment of immigrants and refugees diagnosed with inactive TB disease, not just those with latent TB infection (LTBI).
Two awardees, Steve Hughes (from New York State) and Nancy Baruch (from Maryland), are from the Northeast region. All three awardees have been a cornerstone of the NTIP workgroup and have provided valuable insight and recommendations to improve NTIP. They have always been voices of reason and the high standards behind NTIP. Their perspectives have provided DTBE with an understanding of expectations from TB programs and how DTBE can best support and help local TB programs move forward with enhancing the effectiveness of our TB control strategies through NTIP. Their commitment to the mission and passion for TB control are inspiring. I am proud to have had the opportunity to work with them.
Submitted by Kai H. Young, MPH - Division of Tuberculosis Elimination, Centers for Disease Control and Prevention
GTBI is interested in highlighting TB program efforts throughout the Northeast. If you would like to see your program featured in the next edition of the Northeastern Spotlight, please email Arpita Jindani (arpita.jindani@rutgers.edu).
Upcoming Northeast RTMCC Training
The New Jersey Medical School Global Tuberculosis Institute (GTBI) sponsors courses and web-based seminars on tuberculosis. GTBI web-based seminars are open to all participants in the United States. For in-person courses, GTBI prioritizes participants from the Northeast Region (Baltimore, Connecticut, Delaware, Maine, Maryland, Massachusetts, New Hampshire, New Jersey, New York City, New York State, Pennsylvania, Philadelphia, Rhode Island, Vermont, and Washington, DC), which is served by GTBI.
Click here for the list of upcoming trainings.
GTBI faculty and staff respond to requests from healthcare providers seeking medical consultation. We also provide consultation on nursing, case management and contact investigation issues on request. Consultants can be reached by calling the TB Info-line: 1-800-4TB-DOCS (1-800-482-3627) or by email (mc_gtbi@njms.rutgers.edu)
During each consultation, the GTBI consultants will advise callers about resources/TB Programs in their jurisdiction. In addition, TB programs will be informed of TB cases with public health implications such as MDR/XDR-TB, pediatric TB in children <5 years of age, or potential outbreak situations.
More information about our consultation service, including downloadable Core TB Resources, can be accessed at http://globaltb.njms.rutgers.edu/services/medicalconsultation.html
Division of Tuberculosis Elimination
The mission of the Division of Tuberculosis Elimination (DTBE) is to promote health and quality of life by preventing, controlling, and eventually eliminating tuberculosis from the United States, and by collaborating with other countries and international partners in controlling tuberculosis worldwide.
Find TB Resources Website
This website provides a central, comprehensive searchable database of international, national, state, and local TB-related education and training materials for TB healthcare workers, health professionals, patients, and the general public. Users can also submit their education and training materials as well find information on funding opportunities, TB organizations, TB mailing lists, and TB images.
TB Education & Training Network (TB ETN)
The TB Education and Training Network (TB ETN) was formed to bring TB professionals together to network, share resources, and build education and training skills.
Regional Training and Medical Consultation Centers' TB Training and Education Products
This website provides a searchable list of all RTMCCs' resources.
TB Wire Newsletter
Contents include:
Announcements
Washington Update
Linkable Journal Abstracts
Resources/Training
Selected TB Reports
Grants, Job Opportunities
Meetings, Conferences & Events
To subscribe to this service, click here
Other RTMCCs
The Curry International Tuberculosis Center serves: Alaska, California, Colorado, Hawaii, Idaho, Nevada, Oregon, Utah, Washington, Federated State of Micronesia, Northern Mariana Islands, Republic of Marshall Islands, American Samoa, Guam, and the Republic of Palau.
The Heartland National Tuberculosis Center serves: Arizona, Arkansas, Kansas, Louisiana, Missouri, New Mexico, Nebraska, Oklahoma, and Texas.

The Mayo Clinic Center for Tuberculosis serves: Illinois, Indiana, Iowa, Michigan, Minnesota, Montana, North Dakota, Ohio, South Dakota, Wisconsin, and Wyoming
The Southeastern National Tuberculosis Center serves: Alabama, Florida, Georgia, Kentucky, Mississippi, North Carolina, South Carolina, Tennessee, Virginia, Puerto Rico, West Virginia, and the U.S. Virgin Islands.
back to top

Alfred Lardizabal, MD - Executive Director
Mitchell Gayer, MS, MPH - Deputy Director
Amee Patrawalla, MD - Medical Director
Anita Khilall, MPH - Program Director, Education and Training
Lee B. Reichman, MD, MPH - Senior Advisor
back to top