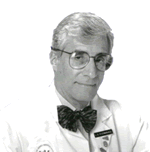 Dear Colleague:
I am delighted to let you all know of two staffing changes here at GTBI. First, Anita Khilall, whom many of you have worked with over the last 9 years, is now the Senior Training and Consultation Specialist at GTBI. In her new role Anita will be coordinating and overseeing stand-up and web-based RTMCC training at GTBI. Secondly, I'd like to introduce a new addition to our GTBI family, Training & Consultation Specialist Beth Hurley. Beth comes to GTBI having spent two and a half years at the Francois Xavier Bagnoud Center at UMDNJ, where she was involved in developing trainings and curricula for health care workers working in HIV. Beth will be at the TB ETN/TB PEN Conference in Atlanta in September, where she will have an opportunity to meet many of you in person.
In this issue of the Northeastern Spotlight, the Behavioral/Social Science Contribution to TB Control feature examines electronic tools to monitor medication adherence. Our Staff Profile highlights Michigan TB Control Program Manager Peter Davidson, PhD, and his road from the lab to the programmatic side of TB control. We also report back on the World TB Day event in New York City, and present two of our recently updated products: the Spanish-language version of What Parents Need to Know about LTBI in Children and LTBI: A Guide for Primary Health Care Providers.
As we've been working on the all-RTMCC needs assessment this year, we've been struck by the commitment and dedication of the TB practitioners working in the region. We thank you for your input throughout this process despite having so many duties to fulfill! We are delighted to have seen so many of you at the National TB Conference in Atlanta in June, and we look forward to sharing the state-level needs assessment reports with you and identifying ways that GTBI can be of even greater assistance to your program.
Lee B. Reichman, MD, MPH
Executive Director
Northeastern RTMCC and the
Global Tuberculosis Institute
back to top

Dr. Lee Reichman receives the William Stead Clinician Award
The National Society of TB Clinicians recently honored Lee B. Reichman, MD, MPH with the William Stead Clinician Award at the National TB Conference in Atlanta, Georgia. This award, initiated in 2010, is presented annually and recognizes outstanding commitment and performance by a clinician providing tuberculosis care, leadership, or mentoring.
Dr. Reichman is internationally recognized in the field of TB, particularly for his role as a TB Advocate at the state, national and international levels. In addition to his role as founder and Executive Director of the New Jersey Medical School Global Tuberculosis Institute, he is Professor of Medicine, Preventive Medicine and Community Health. For nearly 50 years, Dr. Reichman has worked tirelessly towards the control and elimination of TB around the globe. Among Dr. Reichman's many notable accomplishments, he is a long time member of the National Advisory Council for the Elimination of TB, and served on numerous committees and working groups for national and international organizations including the Global Stop TB Partnership. In addition to more than 200 published articles and several books, he is a frequent contributor to local and national media, inspiring others through his expertise and leadership.
Dr. Reichman noted that he is especially proud and honored to be recognized by his peers. He added that last year he was recognized by the Public Health Advisors and jokingly remarked that he was "waiting to hear from the nurses!"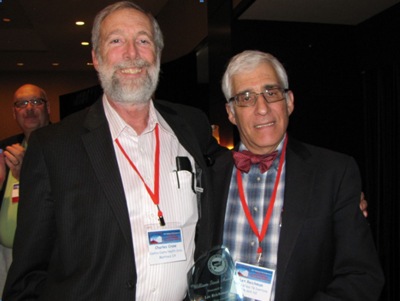 Dr. Reichman with Dr. Charles Crane, President of the National Society of TB Clinicians
back to top

Behavioral/Social Science Contribution to TB Control: Electronic Tools to Monitor Medication Adherence
This installment will continue the theme of TB control interventions based on behavioral or social sciences findings. The previous newsletter focused on the use of incentives and enablers; this installment examines the growing use of various electronic devices to monitor and affect treatment adherence.
Electronic devices to monitor adherence include: interactive voice response (IVR) and short message service (SMS) using cell phones, Mobile Direct Observation Therapy (mDOT), and wireless electronic medication bottles. These devices can support the practice of medicine and public health by reinforcing adherence in several ways. The methods which include reminders for patients to take their medicines comprise "cues to action" as described in the Health Belief Model.1 Other projects have used electronic devices to monitor adherence in real-time, facilitating intervention before treatment failure occurs. Most of these studies have examined HIV adherence in Africa, but the methods could easily be transferred to TB/LTBI treatment and to other settings.
In January 2011, the Los Angeles Times reported on new medication adherence technologies such as smart pills and "necklace" tracers. While pills already exist with cameras to record a journey through the gastrointestinal tract, new pills contain microchips that can wirelessly report stomach chemistry and other data. The "necklace" tracer uses radio-frequency identification (RFID), similar to how stores use RFID at their exits to prevent theft. In this case, the magnets on the necklace detect a pill containing an RFID chip as it is swallowed. Thus, pill-taking can be confirmed without having to watch the patient swallow.2
Interactive Voice Response (IVR)
The application of IVR to scientific research is an increasingly popular strategy which allows investigators to track participants and gather data remotely without the need for direct interviewer contact or high-tech equipment among study participants. Data collection via interactive voice response technology (IVR) combines computerized self-interviewing with touch-tone telephone technology. Participants respond to prerecorded questions by pushing numbers on the telephone keypad that correspond to their answers. Participants' responses and additional metadata such as the date, time, and duration of the call are stored remotely on a server connected to a telephone network.3
One of the most important advantages of IVR systems is their superior potential for outreach. As they do not require participants to be literate, IVR systems are particularly suited for research with low-literacy populations. They do not require any technological equipment except access to a private or public touch-tone telephone, which greatly facilitates access to otherwise hard-to-reach populations such as the homeless and other socially disadvantaged groups.3
Short Message Service (SMS)
SMS is also proving to be a low-cost, effective method. Short text messages are sent to patients who have a mobile phone or the ability to access one on a near-daily basis. Staff are able to send SMS messages to multiple recipients at one time, asking how they are. The patients are instructed to respond "well" or "problem," and staff follow-up with phone calls to both those who say "problem" as well as those who do not respond. Several studies have shown that HIV patients who received SMS support are more likely to improve adherence and viral suppression. 4,5
SMS projects are popular and demonstrate to patients that "someone cares." In one study, the intervention proved effective despite the fact that some intervention participants were forwarding their SMS messages to control participants in an effort to share support.4 In another study, the investigators tested short versus long messages and daily versus weekly messages. They found the short messages, which were simply reminders, to be more effective than longer messages that included additional support. Adherence improvements were found in those receiving weekly messages but not in those receiving daily messages, suggesting that the increased contact became annoying.5
Mobile Direct Observation Therapy (mDOT)
In the United States and other countries, video DOT has been used for some time. The mDOT model is similar to video DOT but with cheaper, more accessible technology. In a small study in Kenya, treatment supporters used camera phones to record daily videos of TB patients swallowing their medications. These videos were then sent for review by health professionals. This method thus combines clinic with community DOT through the use of mobile phone video capture and transmission, alleviating the travel burden for patients and health professionals. Study patients agreed that mDOT was a viable option, and eight patients preferred mDOT to clinic DOT or DOT from visiting community health workers.6
Wireless Electronic Medication Bottles
For some time, Electronic Monitoring Devices (EMDs) have been used to monitor adherence by generating an electronic record when a pill bottle is opened. However, until recently these data were largely retrospective. Recent EMDs have been adapted to monitor adherence in real time, with medication bottles that send a signal every time they are opened. A central computer generates warnings about missed doses. Warnings can trigger various interventions, including a call or visit from a healthcare worker.
7
Conclusion
Electronic devices to monitor adherence offer the advantages of providing relatively inexpensive monitoring over large, often rural, areas with poor transportation. Even in developing countries, wireless coverage is extensive and often inexpensive. Limitations can occur because of wireless coverage and power outages and because participants in resource-limited areas often share their cell phones with family members, leading to confidentiality concerns.
Real-time monitoring has the advantage of prompting an intervention before treatment failure occurs. Because adherence is dynamic in resource-limited settings and declines either gradually (such as from pill fatigue) or suddenly (such as from washed-out roads or family emergencies), real-time monitoring represents a shift from reactive responses to proactive interventions designed to prevent treatment failure.
As technological advances are driven by increasing miniaturization and declining costs, we can expect further developments in this area. While such devices may seem impractical in everyday use because of their expense, the costs may not be so great compared with staff time required to visit, observe, and record data. In fact, the LA Times article mentions tuberculosis treatment as a prime candidate for the use of these new technologies2, given the burden that Directly Observed Therapy places on both providers and patients.
Submitted by Paul Colson, PhD, Program Director,
and Julie Franks, PhD, Health Educator and Evaluator,
Charles P. Felton National TB Center, ICAP, Columbia University. Thanks to Yael Hirsch-Moverman, PhD, Epidemiologist, Charles P. Felton National TB Center, ICAP, Columbia University.
1 Becker M. The health belief model and personal behavior. Thorofare NJ: SLACK Inc.; 1974.
2 Dance A, "Pills with a mind of their own." Los Angeles Times, January 10, 2011.
3 Haberer JE, Kiwanuka J, Nansera D, Wilson IB, Bangsberg DR. Challenges in using mobile phones for collection of antiretroviral therapy adherence data in a resource-limited setting. AIDS Behav 14:1294-1301. 2010.
4 Lester RT, Ritvo P, Mills EJ, Kariri A, Karanja S, Chung MH, Jack W, Habyarinama J, Sadatsafavi M, Najafzadeh M, Marra CA, Estambale B, Ngugi E, Ball TB, Thabane L, Gelmon LJ, Kimani J, Ackers M, Plummer FA. Effects of a mobile phone short message service on antiretroviral treatment adherence in Kenya (WelTel Kenya1): a randomized trial. Lancet 376:1838-45. 2010.
5 Pop-Eleches C, Thirumurthy H, Habyarimana JP, Zivin JG, Goldstein MP, de Walque D, Mackeen L, Haberer J, Kimaiyo S, Sidle J, Ngare D, Bangsberg DR. Mobile phone technologies improve adherence to antiretroviral treatment in a resource-limited setting: a randomized controlled trial of text message reminders. AIDS 25:825-34. 2011.
6 Hoffman JA, Cunningham JR, Suleh AJ, Sundsmo A, Dekker D, Vago F, Munly K, Igonya EK, Hunt-Glassman J. Mobile direct observation treatment for Tuberculosis patients: a technical feasibility pilot using mobile phones in Nairobi, Kenya. Am J Prev Med 39:78-80. 2010.
7 Haberer JE, Robbins GK, Ybarra M, Monk A, Ragland K, Weiser SD, Johnson MO, Bangsberg DR. Real-time electronic adherence monitoring is feasible, comparable to unannounced pill counts, and acceptable. AIDS Behav DOI 10.1007/s10461-011-9933-y. Published on-line 30 March 2011.
back to top

Staff Profile: Peter Davidson, PhD, Michigan TB Control Program Manager
Michigan Program Manager Peter Davidson first became interested in public health doing field work in Ecuador during college. A microbiology major, Peter suddenly found himself travelling around the country doing field assessments, seeing which diseases were occurring and what interventions could practically be implemented. "It was probably the most impactful two weeks of my life," Peter remarked. "Even today, so many years later, I find myself reacting in ways that were formed by that experience."
After getting a PhD in cell and molecular biology ("I like to say I got sidetracked during grad school!" Peter wryly commented), he started an APHL CDC Emerging Infectious Diseases Laboratory Fellowship and was stationed in Lansing. When the fellowship ended, he transitioned into the Michigan TB Control Program Manager position he holds today.
"I had a tremendous amount of learning to do when I started, which was nerve-wracking," Peter said. "I had no direct experience with TB. I knew the words and terms, but I didn't understand anything about public health operationally. People called expecting me to answer their questions, and I didn't even understand the questions they were asking me! Nobody succeeds on their own, and fortunately the Public Health Advisor attached to the Michigan program and the Public Health Nurses took me under their wing and really helped me. "
For Peter, much of what the Michigan TB Program has achieved during his time there has been because of education. "We started out with education targeted to local public health, and have been branching out to providers over time. We've built relationships with these partners through education, and so much of the success of our program has occurred not because of regulations, but by being able to offer education and guidance. Our Nurse Consultants created a Nurse Network, which was initially created to address questions from local health nurses that kept coming up again and again. It's evolved into a statewide network that meets quarterly via conference call and webcast. We keep them updated about where the program's going and provide education, and it gives them an opportunity to share some of the challenges they're facing."
While initially the TB Program was trying to bring benefits to participating in the Nurse Network, now the TB Program depends on the Nurse Network for tasks such as endorsing the evaluation plan and helping roll out cohort reviews. Another development from the Nurse Network is the TB Nursing Certification Course, a two-day training for local public health nurses focusing on core functions like case management and DOT. The course was piloted in 2009 with about 35 participants, and is being offered for a second time this year with plans to offer it annually. Two guest lecturers from NJMS Global TB Institute, Lillian Pirog and DJ McCabe, have participated in both iterations. "We like collaborating with GTBI for this, because DJ and Lillian are experts in their field," Peter noted. "It helps to have input from people who have that level of expertise and who work in a higher burden area and see very complex cases. We wouldn't be able to provide that perspective internally."
Asked what he likes to do for fun, Peter responded, "Oh, man, I've almost forgotten!" He takes martial arts classes, which he started doing during graduate school. "Lots of people think you're learning karate to break boards or chop people in the neck, but the great thing about martial arts is that you can make it as much about internal development as you want to. And you learn so many different things you can do with your body to get yourself out of different situations using nothing but yourself. Fortunately I've never had to use it!" One aspect Peter particularly enjoys is whenever a new person joins the group, the instructor asks the person what they would do if someone menacing were approaching them. The person generally comes up with an answer like putting their hands up. The instructor then asks a member of the group to role play being a suspicious person, and when they're about five feet away, the instructor runs away, screaming his head off. "The guy's like a 7th degree black belt, but the lesson is to avoid conflict in the first place. It's a good dose of reality."
Peter is also learning how to play the banjo, having discovered about a year ago that he really likes the sound of it. He acquired a banjo from a relative who had one sitting in a basement for most of his life. Peter commented, "My family gets a bit tired of hearing the same riff every night, but hey, at least it makes me happy!"
Outdoor pursuits like hiking, fishing, and skiing are also high on Peter's list. "My family has a couple cabins in northern Michigan, so I like to vacation up there without email, computers, or TV. For me, vacation is all about spending time with people you really want to be with, and not being distracted by the things that normally distract you. In general, I like to leave my house when I go on vacation, but it's more just about talking and reconnecting than going someplace exotic."
Back at work, Peter's seen a lot of changes despite being relatively new to TB. "The Affordable Care Act, coupled with social and demographic changes, could potentially have a huge impact on TB," Peter noted. "For people who have been in TB for decades, I don't know if they're thinking 'Yeah, we've been through this before' or if their heads are just spinning and they don't know what we're coming to." We suspect that unlike his martial arts instructor, Peter will not run away screaming from this potentially menacing situation.
back to top

On a snowy March 23rd, over 170 professionals gathered in New York City for the annual World TB Day conference, "Fighting TB in NYC: Innovations and Challenges." This full-day program was set to impress, and despite the miserable weather, participants arrived ready to learn and be engaged. Not only did the conference attract nurses, physicians, laboratory staff, and disease investigators from New York City, but attendees also made it through the snow from New Jersey, New York State, and Connecticut.
The program was hosted by the Director of New York City's Bureau of TB Control, Dr. Chrispin Kambili whose light, humorous style kept the agenda flowing. Dr. Kambili gave an overview of TB in New York City as well as moderating the interactive discussion sessions. There was a fascinating portrait of TB in refugee communities presented by Dr. Shama Ahuja, and the 'ins and outs' of collaboration during the hospital discharge process was covered by Dr. Diana Nilsen.
With the focus on diagnostics, the audience was treated to a lecture by Dr. David Alland, the developer of the Xpert MTB/RIF Assay. The talk had some technical aspects which appealed to the laboratory personnel present in the audience, but then Dr. Alland rapidly drove home the point about the worldwide need for rapid diagnostics for the detection of M. tuberculosis and drug resistance. The entire afternoon was devoted to discussion of interferon gamma release assays (IGRAs). CDC Medical Epidemiologist Dr. John Jereb, traveled from Atlanta to cover the current CDC guidelines. He was followed by Dr. Tiffany Harris, who provided comprehensive data on the use of IGRAs in New York City. Finally, Drs. Neil Schluger, Henry Pollack, and Wendy Cronin presented ongoing research about IGRA use for immunocompromised persons, children, and health care workers.
Participants commented that they came away feeling like they had new options to explore back in their programs. This included not just their own clinical practices, but also looking at ways to modify current policies. It was an enjoyable, valuable learning experience and we look forward to working with New York City again on their next World TB Day!
back to top

Newly Released Products: Update to LTBI: A Guide for Primary Health Care Providers and a Spanish-language Version of What Parents Need to Know about LTBI in Children
In Spring of 2010, we began the process of updating and revising a product that was developed here at GTBI in 2005. As part of a Task Order, we were contracted by CDC to design a reader-friendly version of the Targeted Testing Guidelines published in 2000. It was meant to be a handy desktop reference in booklet format, for primary health care providers.
Five years later, a review of the product indicated that some of the information in the booklet needed updating. The change in the handbook's title reflects the fact that many doctors and nurses are now familiar with the concept of targeted testing. We took the opportunity to make a few formatting changes, but most importantly, we included the latest information regarding interferon-gamma release assays (IGRAs) from the CDC publication Updated guidelines for using interferon gamma release assays to detect Mycobacterium tuberculosis infection.
After internal review, the draft was sent to CDC where it went through their clearance process. The final product, in both print and PDF format, is available on the CDC website at: http://www.cdc.gov/tb/publications/LTBI/pdf/TargetedLTBI.pdf
---
This year we also released the Spanish-language version of our popular brochure What Parents Need to Know about Latent Tuberculosis Infection in Children. Like the original version, it contains information about what latent TB infection is, how it is treated, and why it is especially important to treat children. It also contains photos showing how to crush tablets to put in food or bottle nipples for infants and young children, which was a popular feature of the original brochure.
The new brochure contains some changes from the English-language version. It is designed to be printed on legal sized paper (8.5 x 14) and folded in thirds, rather than letter sized paper (8.5 x 11) folded in half. The Spanish translation of the brochure contained a larger quantity of words that could only fit if the font size was greatly reduced. It was important to retain the original font size given the low literacy level of the target population, and the larger paper size made that possible. Secondly, photo images of Hispanic parents and children were substituted for the pictures from the original version.
Since this brochure is intended to be modified as needed, it is available online in both PDF and Word formats at our website: http://globaltb.njms.rutgers.edu/educationalmaterials/productfolder/whatparentsneedtoknow.html. The brochure is not available in pre-printed form. The PDF version has editable fields so that contact information can be customized for each clinic. The Word version allows for changes of the actual text for instances where programs have policies or procedures that differ from what is currently stated. Please visit our home page at http://globaltb.njms.rutgers.edu/index.html to learn more about what we do and to access/order this and other products.
back to top

An amusing look at some TB-related plot twists from TV shows.
ReGenesis: TB or Not TB
This fictional series follows the scientists of NorBAC (North American Biotechnology Advisory Commission—even on TV we can't avoid acronyms), which is tasked with investigating problems of a scientific nature. In this episode, a drug-resistant strain of TB is killing Zapatista rebels in Chiapas. After deceiving checkpoint guards and escaping a firefight, a small group of fearless scientists finally make it to the Zapatista headquarters, which has become a makeshift hospital with no beds or electricity but an abundance of IV poles.
Genotyping shows that the strain is from KwaZulu-Natal, but the scientists are perplexed by how it could have gotten from South Africa to Chiapas—based on their own trip to the region, the scientists reckon that visitors are generally killed on sight. The scientists conclude that the Mexican government must be spreading TB in the region, specifically by creeping into rebel tents in the middle of the night and sprayed aerosolized XDR-TB on the rebels. However, further investigation reveals that the source of the outbreak is a commercial sex worker who came from South Africa and was frequented by the rebels during training missions. The program did not elaborate on why a commercial sex worker would emigrate from South Africa to rebel territory in Mexico, so you just have to use your imagination to fill in that blank. The show comes to an abrupt conclusion when the Mexican government decides to control the outbreak by carpet bombing the entire region into oblivion. Note that this is not an approved infection control procedure.
Ghost Hunters: Live at Waverly Hills Sanatorium
The premise of the documentary show Ghost Hunters is entirely summed up by its title, so no need to waste time there. The stars of this show are affiliated with The Atlantic Paranormal Society (TAPS) and refer to themselves as scientists. Based on my admittedly small sample size of one show, the two main credentials for becoming a TAPS "scientist" are: 1) owning equipment with a large number of knobs, and 2) being easily frightened. The scientists could get frightened in a Starbucks, but since this would make for pretty boring programming they instead traipsed off to the desolate, abandoned Waverly Hills Sanatorium late at night. Rumor had it the ghost of a young patient named Timmy haunted a particular hallway, so they were thoughtful enough to bring a ball for Timmy to play with. After placing the ball in the hall, the scientists broke off into small groups and wandered around. All sorts of spookiness ensued: Scraping noises! Mysterious shadows! A sudden burst of cold! Sample dialogue:
Scientist A: Ack! There was a massive bang over here!
Scientist B: Are you OK?
Like I said, for professional paranormal scientists, these folks get awfully startled by small sounds or a glint of light in the distance. At the end of their exploring, they return to the ball and find that it has moved 16 feet. Ack! That really gives them the shivers. They bring their videotape "evidence" to a second team of scientists located at a nearby Comfort Inn, and this second team "examines" it in search of abnormalities. In other words, the first group comes into a room at the Comfort Inn, dumps a bunch of really boring videotapes in front of the second group, tells them briefly about every time they shrieked, and then leaves. It's now about 2 am, and the second group faces the impossibly soporific task of watching really boring nocturnal footage where they already know what happens. Hopefully the main requirement for the second group of scientists is that they have insomnia, because otherwise the drowsiness would be unbearable. The less-than-surprising conclusion: Based on the number of bangs, flashing lights, and ball movement, Waverly Hills Sanatorium is indeed haunted with the ghosts of TB patients.
Royal Pains: TB or Not TB
Dr. Hank and his entourage are called in to plant skin tests after a new health department makes TB testing mandatory for all restaurant employees. The Italian cook has a positive skin test and promptly runs away. When Dr. Hank is informed, he responds with "She could start an epidemic!" and orders the PA to track her down. Fortunately she fled to her house, so locating her isn't overly taxing. The PA brings the practice's business manager along because he speaks "Berlioz Italian." The PA and the business manager are very concerned about being exposed to TB, so they interview the Italian cook through the window. The PA checks her arm, not with a ruler, but "to see if it hurts, and if there has been blood or drainage." The PA discovers a BCG scar on the patient's arm, and decides to risk getting close enough to her to do a portable chest x-ray. Fortunately the x-ray is clear, and the PA educates the others (and, sadly, viewers at home) by stating that "when people come here from other countries and they have the BCG vaccine and then a TB test, the results will almost always be a false positive."
back to top

GTBI faculty and staff respond to requests from providers seeking medical consultation through:
Our toll-free TB Infoline: 1-800-4TB-DOCS and
During each consultation, the GTBI consultants will advise providers of TB Program resources for consultation in their jurisdiction. In addition, TB programs will be informed of TB cases with public health implications such as MDR/XDR-TB, pediatric TB in children <5, or potential outbreak situations.
More information about our consultation service, including downloadable Core TB Resources, can be accessed at Medical Consultant Web-Based Grand Rounds (http://globaltb.njms.rutgers.edu/services/medicalconsultation.html).
Periodically, designated TB program medical consultants are invited to participate in a web-based TB case conference (or grand rounds). Consultants are encouraged to present challenging TB cases on which they would like feedback from their colleagues throughout the Region. The next grand rounds will be held this Fall and we will notify TB programs when a date and time have been established. TB program medical consultants who would like to present a case should contact Dr. Alfred Lardizabal at 973-972-8452 or lardizaa@njms.rutgers.edu.
back to top

Upcoming NE RTMCC Training Courses Planned for 2010
Courses are open to participants in the 20 project areas (Maine, New Hampshire, Vermont, Massachusetts, Rhode Island, Connecticut, NJ, New York State, New York City, Pennsylvania, Michigan, Indiana, Ohio, West Virginia, Delaware, Maryland, Washington DC, Detroit, Baltimore, and Philadelphia) which are served by the Northeastern National Tuberculosis Center.
Individuals outside of this region who wish to attend our training courses should first contact their Regional Training and Medical Consultation Center to check if a similar course is being offered. If this is not the case, the out-of-region participant may then register for this course.
Click here for the list of upcoming courses.
back to top

Division of Tuberculosis Elimination
The mission of the Division of Tuberculosis Elimination (DTBE) is to promote health and quality of life by preventing, controlling, and eventually eliminating tuberculosis from the United States, and by collaborating with other countries and international partners in controlling tuberculosis worldwide.
TB Education and Training Resources Website
This website is a service of the Centers for Disease Control and Prevention (CDC), Division of Tuberculosis Elimination. It is intended for use by TB and other healthcare professionals, patients, and the general public and can be used to locate or share TB education and training materials and to find out about other TB resources.
TB Education & Training Network (TB ETN)
The TB Education and Training Network (TB ETN) was formed to bring TB professionals together to network, share resources, and build education and training skills.
Regional Training and Medical Consultation Centers' TB Training and Education Products
This website provides a searchable list of all 4 RTMCCs' resources.
TB-Related News and Journal Items Weekly Update
Provided by the CDC as a public service, subscribers receive:
A weekly update of TB-related news items
Citations and abstracts to new scientific TB journal articles
TB conference announcements
TB job announcements
To subscribe to this service, click here
TB Behavioral and Social Science Listserv
Sponsored by the DTBE of the CDC and the CDC National Prevention Information Network (NPIN), this Listserv provides subscribers the opportunity to exchange information and engage in ongoing discussions about behavioral and social science issues as they relate to tuberculosis prevention and control.
Other RTMCCs
The Curry International Tuberculosis Center serves: Alaska, California, Colorado, Hawaii, Idaho, Montana, Nevada, Oregon, Utah, Washington, Wyoming, Federated State of Micronesia, Northern Mariana Islands, Republic of Marshall Islands, American Samoa, Guam, and the Republic of Palau.
The Heartland National Tuberculosis Center serves: Arizona, Illinois, Iowa, Kansas, Minnesota, Missouri, New Mexico, Nebraska, North Dakota, Oklahoma, South Dakota, Texas, and Wisconsin.
The Southeastern National Tuberculosis Center serves: Alabama, Arkansas, Florida, Georgia, Kentucky, Louisiana, Mississippi, North Carolina, South Carolina, Tennessee, Virginia, Puerto Rico, and the U.S. Virgin Islands.
back to top

Lee B. Reichman, MD, MPH - Executive Director
Reynard J. McDonald, MD - Medical Director
Bonita T. Mangura, MD - Director of Research
Eileen C. Napolitano - Deputy Director
Nisha Ahamed, MPH, CHES - Program Director, Education and Training
Nickolette Patrick - Northeastern Spotlight Editor
Alfred S. Paspe - User Support Specialist/Webmaster
back to top