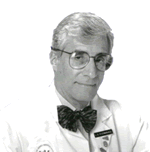 Dear Colleague:
A chill in the air and turning leaves once again signal the start of fall, and with this comes the annual TB Education & Training Network/TB Program Evaluation Network conference in Atlanta. This is always a wonderful opportunity to learn more about emerging topics in education and program evaluation as well as connect with fellow TB practitioners in our region.
In this edition of the Northeastern Spotlight, we learn more about the global travels taken by Dalit Wolfe on her way to becoming Maine's TB Control Coordinator. We also take a look at some strategies for working with people who have travelled to the United States in the training "Enhancing TB Services for Foreign-Born Clients," held this summer in New York City.
Closer to home, "Maryland TB Today" brought a group of new TB practitioners together to learn the basics and bond, while our Lighter Side article looks at efforts of the Diagnostic Center for Population Animal Health at Michigan State University to control M. bovis in the farms and fields of Michigan.
CDC's recommendations regarding the 12-dose isoniazid/rifapentene regimen for latent TB infection has led to increased interest in different regimens, and in this edition we find out more about our updated Latent TB Infection Pocket Card, as well as find out more about TB medication preferences in our Behavioral/Social Science Feature.

I hope that the summer has been a time of relaxation and rejuvenation, and both myself and my staff look forward to seeing you at our trainings this fall.
Lee B. Reichman, MD, MPH
Executive Director
Northeastern RTMCC and the
Global Tuberculosis Institute
back to top

Behavioral/Social Science Contribution to TB Control:
Medication Preferences
The new 12-dose isoniazid/rifapentine regimen represents an addition to the list of recommended regimens for the treatment of latent TB infection (LTBI). As with HIV, diabetes, depression, and many other conditions, LTBI treatment now offers a handful of regimens which are generally equally efficacious. Regimens of shorter duration are frequently associated with better rates of medication adherence and regimen completion.1,2 For instance, in their large retrospective study of LTBI treatment, Horsburgh and colleagues3 found that participants on the four-month RIF regimen had the highest treatment completion rates (68.8%), followed by those on a six-month isoniazid (INH) regimen (55.2%) and those on a nine-month INH regimen (45.2%). Providers and patients alike may assume that the best regimen is the shortest, with the least number of pills.
It is possible, however, that short-duration regimens may be associated with a greater risk of adverse events (AEs) and thus involve a trade-off.4 Following the CDC recommendation of a two-month rifampin/pyrazinamide (RIF/PZA) regimen in 2000, I surveyed LTBI patients about their medication preferences, along with colleagues Wafaa El-Sadr and Yael Hirsch-Moverman. To our surprise, barely more than half (53%) said they would prefer the RIF/PZA regimen over the nine-month INH regimen. Those who preferred the INH regimen expressed concerns about the greater likelihood of AEs and the greater pill burden of the other regimen. (Our research was never published because the regimen's recommendation was withdrawn following several deaths.)
Choice Modeling
When more than one efficacious regimen is available, the physician and patient must consider a variety of factors in selecting a regimen. Over the past few decades, a field called "choice modeling" has developed to examine individuals' decision-making.5 Using such terms as discrete choice, stated preference, and conjoint analysis, choice modeling techniques involve the examination of hypothetical or real choices, forcing respondents to consider trade-offs between various attributes. In a review of conjoint analysis studies from 1982 to 2007, Bridges and colleagues6 found a sharp increase in such studies from 1997 to 2007, going from a few studies per year to around 50 in 2007.
Choice modeling is widely used in marketing research but is also found in studies of economic behavior, political preferences, and health behavior. These studies generally involve survey research where respondents rank or rate characteristics (called "attributes") to identify their ideal or preferred choices. Using a statistical technique called latent class analysis, groups of respondents with similar preferences can also be identified and described.
Choice Modeling in LTBI Research
In the only published choice modeling study of TB/LTBI that could be identified, Guo and colleagues7 conducted a discrete choice experiment with 194 LTBI patients. They included such attributes as:
length of treatment
frequency of clinic visits
risk of developing TB after LTBI treatment
chance of liver damage
chance of skin rash
chance of fatigue
Respondents were also given the option of declining treatment (with an associated risk of developing TB). As expected, respondents favored treatment regimens which were shorter, had a lower AE risk, and were more effective (reduced risk of developing active TB disease). Regarding AEs, respondents seemed more concerned about the rare but serious AE (liver damage) than the two more common but milder ones. The latent class analysis revealed the presence of three groups. The first group, representing 47% of the respondents, was generally adherent to treatment and clinic visits, was concerned about getting rid of the infection and less concerned about AEs, and placed high value on protecting their families. The second group (32% of respondents) was concerned about liver damage, had more employed respondents, and wanted less frequent visits. The third group, 21% of respondents, was most likely to refuse treatment and included many respondents who had high education levels, were foreign-born, and were unemployed. As the authors note, the existence of these groups, with different concerns and different characteristics, argues against viewing LTBI patients as a monolithic group.
Choice Modeling in HIV Research
A study conducted by Stone and colleagues8 provides another example of choice modeling. Using a technique called adaptive conjoint analysis, 299 treatment-experienced HIV patients were asked to evaluate ten attributes of dosing complexity:
total pills per day
dosing frequency
AEs
dietary restrictions
pill size
number of refills
number of copayments
number of prescriptions
number of medicine bottles
if the medicine requires bedtime dosing
For each attribute, respondents reported how they believed it would affect their adherence. Additionally, they were asked to choose between paired regimens with equivalent efficacy but different attributes. The authors found that the best attribute combination for perceived adherence was two pills per day, daily dosing with all pills at the same time, no food restrictions, small pills, one prescription with one co-pay, and one pill bottle. In the regimen analysis, daily regimens were not necessarily more likely to promote perceived adherence than some twice-daily regimens, with pill count, dosing frequency, and AEs playing a major role.
A smaller survey9 using adaptive conjoint analysis examined such attributes as:
risk of resistance
regimen convenience
risk of sleep disturbance
drug failure
increased cholesterol
diarrhea
nausea
dizziness
depression
rash
jaundice
vomiting
Another example of choice modeling in HIV research involves examining attitudes about hypothetical regimens such as Pre-Exposure Prophylaxis (PrEP), a regimen which has since proven efficacious in certain populations for preventing HIV transmission in high-risk groups. A small study using focus groups10 examined such attributes as:
cost
efficacy
AEs
duration of administration
frequency of administration
location of dispensing
pill dispensing by pharmacist vs. health-care professional
They found that acceptability of PrEP was most affected by out-of-pocket costs, beliefs about efficacy, and concerns about AEs.
A much larger survey in seven countries11 examined the following attributes about PrEP preferences:
AEs
having to pay
having to continue using condoms
frequency of required testing
Respondents were found to prefer PrEP injections to pills, with less frequent required testing and medication dispensing at health-care facilities (vs. pharmacies).
Conclusion
This article describes choice modeling techniques, while providing examples of the various attributes important to patients when considering various medication regimens. Given the general trend toward greater patient involvement in medical care, there is growing interest in understanding how patients make choices about their care. Choice modeling "presents a scientifically rigorous research tool that can be used to understand patient preferences and inform decision making."6,p. 273
Several themes emerge from choice modeling studies. Physicians should not recommend a regimen based on any single factor (e.g., dosing frequency). Many people assume that adherence is driven by beliefs about the most efficacious regimen, without considering tolerability issues. As Johnson states, "patients are the final health care decision makers; their satisfaction with a medication is likely to affect whether or not they adhere to the medication prescribed by their physician."12, p. 545
Submitted by Paul Colson, PhD, Program Director, and Julie Franks, PhD, Health Educator and Evaluator, Charles P. Felton National TB Center.
References
1. Menzies D, Dion MJ, Rabinovitch B, Mannix S, Brassard P, Schwartzman K. Treatment completion and costs of a randomized trial of rifampin for 4 months versus isoniazid for 9 months. American journal of respiratory and critical care medicine 2004;170:445-9.
2. Sterling TR, Villarino ME, Borisov AS, et al. Three months of rifapentine and isoniazid for latent tuberculosis infection. The New England journal of medicine 2011;365:2155-66.
3. Horsburgh CR, Jr., Goldberg S, Bethel J, et al. Latent TB infection treatment acceptance and completion in the United States and Canada. Chest 2010;137:401-9.
4. Schechter M, Zajdenverg R, Falco G, et al. Weekly rifapentine/isoniazid or daily rifampin/pyrazinamide for latent tuberculosis in household contacts. American journal of respiratory and critical care medicine 2006;173:922-6.
5. Mele NL. Conjoint analysis: using a market-based research model for healthcare decision making. Nursing research 2008;57:220-4.
6. Bridges JF, Kinter ET, Kidane L, Heinzen RR, McCormick C. Things are Looking up Since We Started Listening to Patients: Trends in the Application of Conjoint Analysis in Health 1982-2007. The patient 2008;1:273-82.
7. Guo N, Marra CA, FitzGerald JM, Elwood RK, Anis AH, Marra F. Patient preference for latent tuberculosis infection preventive treatment: a discrete choice experiment. Value in health : the journal of the International Society for Pharmacoeconomics and Outcomes Research 2011;14:937-43.
8. Stone VE, Jordan J, Tolson J, Miller R, Pilon T. Perspectives on adherence and simplicity for HIV-infected patients on antiretroviral therapy: self-report of the relative importance of multiple attributes of highly active antiretroviral therapy (HAART) regimens in predicting adherence. Journal of acquired immune deficiency syndromes 2004;36:808-16.
9. Beusterien KM, Dziekan K, Flood E, Harding G, Jordan JC. Understanding patient preferences for HIV medications using adaptive conjoint analysis: feasibility assessment. Value in health : the journal of the International Society for Pharmacoeconomics and Outcomes Research 2005;8:453-61.
10. Galea JT, Kinsler JJ, Salazar X, et al. Acceptability of pre-exposure prophylaxis as an HIV prevention strategy: barriers and facilitators to pre-exposure prophylaxis uptake among at-risk Peruvian populations. International journal of STD & AIDS 2011;22:256-62.
11. Eisingerich AB, Wheelock A, Gomez GB, Garnett GP, Dybul MR, Piot PK. Attitudes and acceptance of oral and parenteral HIV preexposure prophylaxis among potential user groups: a multinational study. PloS one 2012;7:e28238.
12. Johnson FR, Ozdemir S, Manjunath R, Hauber AB, Burch SP, Thompson TR. Factors that affect adherence to bipolar disorder treatments: a stated-preference approach. Medical care 2007;45:545-52.
back to top

Dr. Lee Reichman Honored with 2012 World Lung Health Award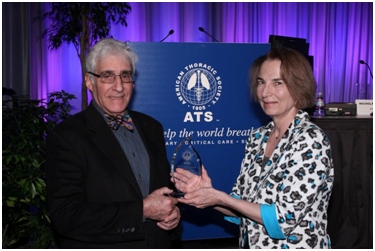 Lee Reichman, MD, MPH, was awarded the 2012 World Lung Health Award by the American Thoracic Society (ATS) at the 2012 ATS International Conference, which was held in San Francisco. The ATS International Conference is an important venue for recognizing individuals who are leaders in the fields of pulmonary, critical care, and sleep medicine for their extraordinary contributions to and achievements in lung disease research, treatment, and prevention. Dr. Reichman was one of seven individuals honored on May 20, 2012, during the ATS International Conference awards session.
The World Lung Health Award is presented to individuals with recognized contributions to world lung health in the area of basic or clinical research, delivery of healthcare, continuing education or care of patients with lung disease.
Dr. Reichman currently serves as the founding Executive Director of the Global Tuberculosis Institute at the New Jersey Medical School. He is also a Professor of Medicine and Professor of Preventive Medicine and Community Health at the same institution.
Dr. Reichman is a globally recognized TB medical and public health leader. He is a longtime member of the International Union Against Tuberculosis and Lung Diseases (past vice-Chair of the Executive Committee), Stop TB USA (former Chair), and the ATS (honorary lifetime member). He is widely published in professional journals, and has written over 200 original journal articles and books.
Early on, Dr. Reichman advocated for the establishment of TB centers of excellence to help health departments and providers fight TB and MDR TB through enhanced education, training, and research activities. This concept was a forerunner of the CDC-funded Model TB Centers, and now Regional Training and Medical Consultation Centers (RTMCCs).

Reported by Staff of the Communications, Education, and Behavioral Studies Branch
Division of TB Elimination, US Centers for Disease Control
back to top

Profile: Dalit Wolfe, RN, BSN, MPH—TB Program Manager for Maine
Over the years we've profiled a number of professionals whose careers have taken many twists and turns on their way to working in TB, but Dalit Wolfe, the TB Program Manager for Maine, has had a particularly exciting and circuitous route to working in TB control.
Originally from Harpswell, Maine, Dalit first became interested in health thanks to her grandfather, an Internal Medicine doctor who treated patients until he was 89 years old. He did a lot of international work in Haiti and Guatemala, and Dalit grew up hearing his stories but not knowing it was called public health. After high school, Dalit spent six months living with a host family in rural Costa Rica teaching English and health, followed by six months in Peru with another host family. Her host mother worked in a hospital, and Dalit volunteered in the oncology and pediatric units. The oncology wards had ten patients to a room, and there was nothing for them to do all day but stare at white walls. To help improve the patients' quality of life while in the hospital, Dalit raised funds to get TVs and VCRs in each of the rooms, as well as build and furnish a pediatric play room.
Dalit returned to the United States from her very busy year abroad to begin college at the University of Delaware. She thought she wanted to follow in her grandfather's footsteps and become a doctor, so she designed her own major called Hispanic Culture & Medicine. She took every class she could that might help her better relate to future patients: Spanish, religion, philosophy, and sociology on top of all her premed classes.
But Dalit's plans changed during her junior year of college when she travelled to the Dominican Republic. While taking classes at their medical school and conducting a research project with OB/GYNs, Dalit discovered that she loved midwifery and really wanted to be a midwife. She returned to the United States, withdrew her applications to medical schools, and started applying for accelerated nursing programs since it was mandatory to be a nurse before you could become a midwife.
"I did an accelerated MSN program, which was a brutal experience," Dalit says. "At times I had forty hours of clinical and forty hours of school a week. But I woke up fourteen months later and I was a nurse!" Understandably, she wanted to work for a little while before plunging back into school to become a midwife, so she got a job as a labor & delivery nurse at Washington Hospital Center, a large inner-city public hospital in Washington D.C. "It was quite the introduction to nursing," Dalit recalls. "It was basically an emergency room, but everyone was pregnant. Women would come in with gunshot wounds, and they're in labor. Or they'd be shooting up heroin and in labor. There were very, very high infant mortality and stillborn rates. It was frustrating to watch 15-year-old after 15-year-old come in on drugs delivering their first or second baby. I became a breastfeeding counselor and a doula, but I wasn't able to make a big impact because women were already in labor and they didn't want to hear about breastfeeding or nutrition, they wanted to get that baby out."

Dalit went back to school yet again, this time for a Masters in Public Health from Boston University with a dual concentration in International Health and Maternal & Child Health. She cofounded a group with two other students called the Global Nursing Caucus, which brings together nurses to discuss and disseminate information related to global health nursing. For her practicum, Dalit went to Guatemala and did an evaluation of prenatal care workers in the Western Highlands who had been tasked with supporting indigenous midwives. There were national as well as organizational guidelines the prenatal care workers were supposed to be following, but Dalit found that they weren't following either set of guidelines and the guidelines themselves were not congruent. This resulted in many missed opportunities to improve outcomes. If you'll be at the American Public Health Association Conference in San Francisco this fall, come by and see Dalit's presentation of her results.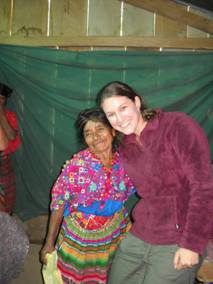 Dalit with an indigenous midwife in the Western Highlands of Guatemala, during her MPH practicum.
Dalit contemplated staying in Guatemala, but the situation in the country was becoming increasingly dangerous, so she returned to Boston for her final semester of graduate school intent on finding a job in international women's health. A friend was going to a big infectious disease conference in Maine, and Dalit asked him to keep an eye out for any job openings. He returned and mentioned "There's a job, something about TB," and Dalit thought it could potentially be interesting and applied. The last week of her MPH program, Dalit drove up to Maine in the morning for her job interview, and then drove back down to Boston to do a final presentation for her degree, and 24 hours later she accepted the Maine TB Program Manger position.
After working in international women's health for the last decade, Dalit finds working in TB refreshing. "A friend once told me, 'If you're comfortable at work your first day, you're going to be bored within three months.' I tried to keep that in mind my first day on the job!"
One aspect Dalit has particularly enjoyed about working in TB is the camaraderie. "It's been great joining a group of people who are so dedicated to one disease that has such a great impact on people's lives. Together we can make more of a difference than any individual ever could, and the Global TB Institute and the New England TB Consortium have provided a great way to join together and forward the cause of TB control more than any one person could."
Maine is on track to have about triple the number of TB cases compared to 2011, so Dalit has had ample opportunity to use her Spanish and global health experience. Dalit hasn't yet had time to implement some of her long-term projects like community-based TB education and systems improvement because of Maine's unexpectedly high case rate, but she hopes to start these projects in the fall.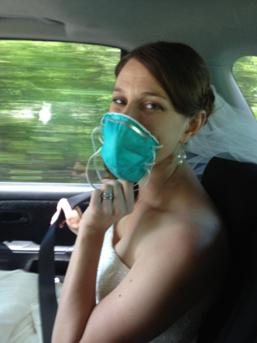 Dalit on the way to her wedding. "I found my TB mask so I thought I'd put it on," she said. "You never know when you'll need it!"
Dalit has been so committed to her work that when asked what she likes to do in her spare time, she didn't quite know what to say. "Do you have any good hobbies I should know about?" she asked. "What should I do for fun?" Dalit got married and bought a house all in the same week this spring, so recently she's split her time between working on her house and writing thank-you cards from her wedding. She's also exploring Maine with her husband and spending time with her family, since she hasn't lived in Maine for eleven years. Dalit is a huge New England Patriots fan and an avid viewer of Sports Center, and she enjoys walking and biking on the trails by her house and playing bocce ball.
On behalf of the TB community, I'd like to extend a warm welcome to Dalit!
Submitted by
Nickolette Gaglia, MPH
Training and Consultation Specialist
NJMS Global Tuberculosis Institute
back to top

The Wild Side of TB: Fighting Endemic M. bovis in Michigan
As TB practitioners, we spend a lot of time devising TB control strategies for our cities, counties, and states. But the bug isn't exclusive to humans, and everything from wild boars to badgers can be infected with M. bovis, the close cousin of M. tuberculosis. I recently spoke with Scott Fitzgerald, DVM, PhD, Professor of Pathobiology at the Diagnostic Center for Population Animal Health at Michigan State University, about the state's M. bovis control efforts for domestic animals and wildlife.
The story begins in 1993, when a hunter was butchering a deer and didn't like the way it looked, so he threw it in the local landfill. Dr. Fitzgerald heard about the suspicious deer and retrieved the deer from the landfill after the spring thaw. He was able to isolate M. bovis, but it was unclear whether this was an isolated incident so he tested 350 deer within a 15 kilometer radius and found 18 were positive for the bacteria. The following year, surveillance was expanded to four counties, and it quickly grew to encompass the entire state. At its peak, 30,000-40,000 deer heads were tested each fall during the hunting season.
The M. bovis incidence in wild deer started out at 5%, and over the last 18 years the state has instituted a number of wildlife management changes aimed at reducing this number. The state banned supplemental feeding—in case you're not up-to-date on your hunting lingo, this is when you put food out for deer year-round so they become habituated to an area and gain body weight and antler size. Hunters also used bait piles, dumping piles of beets or other deer-enticing food on the ground, and returning later to shoot any deer that may be munching. The state banned bait piles because they lured many animals into abnormally close quarters, increasing lateral transmission. Along with issuing more hunting and antler-less deer permits, the overall number of deer has decreased by 50% in endemic areas, and the prevalence of M. bovis has dropped by over half.
Because M. bovis is potentially harmful to humans, Michigan distributes an annual brochure to hunters on signs of M. bovis in deer carcasses, as well as the importance of wearing gloves while butchering deer and the importance of cooking deer meat until the juices are clear. But the driving force behind the M. bovis control efforts in deer is not the need to protect humans directly, but the need to protect cattle. Deer transmit the bacteria to cows, which in turn shed the bacteria in their milk, and suddenly that bowl of cereal for breakfast becomes potentially infectious.
"A milk tanker will pick up milk from 150 cows on a farm, and then it goes to four other farms and picks up their milk too," Dr. Fitzgerald said. "Then the milk tanker goes to the central dairy, and that milk gets bottled and shipped all over the state. So you're potentially exposing hundreds of thousands of people to M. bovis. We pasteurize the milk supply to kill off bacteria, but nothing's 100% and we don't want to test the system by seeing how many infected cattle can be shedding in it before we get into trouble. We want to prevent it from getting into the milk supply in the first place by preventing infection in cattle, which is why we've had a national eradication program in place since 1917."
One of the challenges of controlling M. bovis in cattle is that infected cows have very few signs and symptoms unless the disease is very advanced. This is why most states, including Michigan, skin test whole herds of cattle, injecting tuberculin into the area just underneath their tail and returning 3 days later to palpate the area for a reaction. About 150 suspect cows are identified each year in Michigan, but only about 5 to 6 are positive once a necropsy is performed.

Many farmers have fenced in pastures and feed areas to restrict contact between cattle and wild deer, but Dr. Fitzgerald was intrigued by cases of M. bovis in cattle despite these precautions. He began investigating other possible hosts of M. bovis that could also be responsible for transmission, starting with wild-type mice, Norway rats, and meadow voles. (Meadow voles live just below the grass in meadows, in case you haven't thought about voles recently. Or ever.) Dr. Fitzgerald found that while Norway rats were 100% resistant to M. bovis, both mice and meadow voles were highly susceptible to the disease, and these two rodents had very different mortality and susceptibility patterns.

Dr. Fitzgerald also studied birds, since they are potentially attracted to spilled grain on the ground at farms. He found that turkeys and ducks are virtually resistant, but rock pigeons could shed M. bovis bacteria in their feces for up to 60 days. In places with endemic M. bovis, there may be some benefit to screening off areas to keep pigeons away—otherwise pigeons can sit on rafters in barns and cows breathe in the aerosolized bacteria from the pigeon feces.

"A lot of people are talking vaccination for reducing M. bovis in wildlife," Dr. Fitzgerald stated, "such as badgers in England or brush-tailed possums in New Zealand." We talk about how a good TB contact investigation involves tracking down potential contacts, but this pales in difficulty when compared to literally chasing badgers through the British countryside. Perhaps they have some very skilled badger-catchers, or maybe their sprinters have more time on their hands now that the Olympics are over, but at any rate, I hope we can come up with a slightly less aerobic solution.

As we look to the future, it's also important to remember our past. Dr. Fitzgerald points out that while "there's a big movement among people for a holistic, organic approach, and that's fine to a certain extent because we're worried about bacterial resistance from antibiotic overuse and whatnot. But there's a reason why we started pasteurizing the milk supply in the first place, and that's to prevent the spread of M. bovis, so we do not encourage people to drink unpasteurized milk. You don't always think about it that way—you think about the health of raw and unprocessed and uncontaminated foods—but there's a reason why these programs have been implemented and we shouldn't get away from them."
Submitted by
Nickolette Gaglia, MPH
Training and Consultation Specialist
NJMS Global Tuberculosis Institute
back to top

An estimated 10-15 million people in the US have latent TB infection, making it a far more common condition than active TB disease. More that 80% of cases of TB in the United States result from reactivation of latent TB infection, and nearly all these cases could be prevented by appropriate treatment before progression to active disease.
So what are busy clinicians to do? How should they identify candidates for screening, select and interpret a test, choose a treatment regimen, and monitor patients safely to completion of treatment?
The Global TB Institute is finalizing a revised version of its popular "Diagnosis and Treatment of Latent TB Infection" pocket card. This revision incorporates new developments and recommendations for the diagnosis and treatment of latent TB, such as the use of interferon-gamma release assays and shorter regimens for treatment of latent TB infection.
The new pocket cards are currently being finalized and will be available for order shortly from the Global TB Institute website at: http://www.umdnj.edu/globaltb/diagnosis&treatment.htm
Submitted by
Bill L. Bower, MPH
Director of Education and Training
Charles P. Felton National Tuberculosis Center
back to top

Enhancing TB Services for Foreign-Born Clients in New York City
In June, the Global TB Institute collaborated with the New York City Department of Health & Mental Hygiene – Bureau of TB Control on a series of two 1-day training workshops entitled "Enhancing TB Services for Foreign-Born Clients." The workshops were held at the Bureau of TB Control's new building in Long Island City, Queens, NY on June 6 and June 22, 2012. These skill-building workshops were developed at the request of the Bureau of TB Control and were designed to improve TB care for foreign-born clients.
Working with foreign-born TB patients requires cultural awareness, strong intercultural communication skills, and knowledge of community resources. These workshops covered the epidemiology of TB patients in NYC, communication skills, assessing personal biases, interpretation skills, and departmental policies. Case studies and Q&A sessions were also included to enhance discussions and promote sharing of experiences among colleagues. Speakers from the NYC Department of Health & Mental Hygiene included Martha Alexander, MHS – Director of Outreach and Planning and Cheryl Herbert, MPA. Speakers from the Global TB Institute included Rajita Bhavaraju, MPH, CHES – Training and Consultation Specialist and Anna Sevilla, MPH, MBS – Research Coordinator.
Additionally, Robert Like, MD, MS - Professor and Director of the Center for Healthy Families and Cultural Diversity at the UMDNJ-Robert Wood Johnson Medical School – discussed challenges related to caring for diverse populations and emphasized the importance of understanding your communities. Dr. Like also led an interactive discussion of topics surrounding culturally-competent patient-centered care and introduced useful mnemonics to help remember the information. The afternoon session included a presentation by Juliana Nannarone, MA – a Translation Plus preferred partner and staff interpreter at the Middlesex County Superior Court in New Brunswick, NJ. Ms. Nannarone's presentation explored topics related to interpretation and communication with limited English proficiency patients. The training concluded with a selection of case studies during which the participants had the opportunity to practice their cultural awareness skills in small groups.
A total of more than 100 participants attended these sessions, representing a variety of clinic locations and TB control roles, and included physicians, nurses, Public Health Advisors, epidemiologists, clerical and administration staff. A total of 86 participants completed course evaluation forms with overwhelmingly positive comments. More than 50% said they would seek additional information on the topics presented and about one-third said they expect to change their practices.
We would like to acknowledge Martha Alexander and Donna Budai at the NYC Department of Health & Mental Hygiene Bureau of TB control for their hard work in planning this training, arranging the training facilities, and recruiting participants. The Bureau of TB Control is planning two additional sessions of this workshop to be conducted with the remainder of their staff in the near future.
Submitted by
Anna Sevilla, MPH, MBS
Research Coordinator
NJMS Global Tuberculosis Institute
back to top

A Look Back at Maryland TB Today
"And what would you do next?" Dr. William Randall, Medical Consultant for the Maryland TB Program, asked as he strode up to a participant and held a microphone in front of them like a daytime TV talk show host. It was nearing the end of the Maryland TB Today course, and Dr. Randall was presenting case vignettes, pausing as each new piece of information was revealed to ask participants how they would proceed with the patient. Over the past three days, about thirty medical and public health professionals new to TB had learned basic skills and information about TB epidemiology, pathogenesis, control, and case management.
The conference, offered collaboratively with the Maryland TB Control Program, was held on April 17th-19th at Bon Secours Spiritual Center, located in a peacefully wooded area of Marriottsville, Maryland. Most of the course participants spent the night at the venue, and breakfast, lunch, and dinner were all served there as well, with tables marked with the name of the course so attendees could easily find each other. Being together in one place and sharing meals helped these new TB practitioners network with the presenters as well as each other. It also provided a great opportunity to get to know the Maryland TB program staff better and informally ask questions.
Besides Dr. Randall's interactive case presentations, other course highlights included TB Jeopardy, in which three teams of attendees tested their knowledge of what they'd learned during the course. It was a close competition, but the winning team attained glory, a round of applause, and a mini Snickers bar. The conference closed with an "Ask the Expert" panel, which allowed participants an opportunity to engage with the experts and resolve any lingering questions.
The course reviews were very positive, and a special thanks to Howard Community College, the joint sponsor for the course.
Submitted by
Nickolette Gaglia, MPH
Training and Consultation Specialist
NJMS Global Tuberculosis Institute
back to top

GTBI faculty and staff respond to requests from providers seeking medical consultation through:
Our toll-free TB Infoline: 1-800-4TB-DOCS and
During each consultation, the GTBI consultants will advise providers of TB Program resources for consultation in their jurisdiction. In addition, TB programs will be informed of TB cases with public health implications such as MDR/XDR-TB, pediatric TB in children <5, or potential outbreak situations.
More information about our consultation service, including downloadable Core TB Resources, can be accessed at Medical Consultant Web-Based Grand Rounds (http://www.umdnj.edu/globaltb/consultation.htm).
Periodically, designated TB program medical consultants are invited to participate in a web-based TB case conference (or grand rounds). Consultants are encouraged to present challenging TB cases on which they would like feedback from their colleagues throughout the Region. The next grand rounds will be held this Fall and we will notify TB programs when a date and time have been established. TB program medical consultants who would like to present a case should contact Dr. Alfred Lardizabal at 973-972-8452 or lardizaa@umdnj.edu.
back to top

Upcoming NE RTMCC Training Courses
Courses are open to participants in the 20 project areas (Maine, New Hampshire, Vermont, Massachusetts, Rhode Island, Connecticut, NJ, New York State, New York City, Pennsylvania, Michigan, Indiana, Ohio, West Virginia, Delaware, Maryland, Washington DC, Detroit, Baltimore, and Philadelphia) which are served by the Northeastern National Tuberculosis Center.
Individuals outside of this region who wish to attend our training courses should first contact their Regional Training and Medical Consultation Center to check if a similar course is being offered. If this is not the case, the out-of-region participant may then register for this course.
Click here for the list of upcoming courses.
back to top

Division of Tuberculosis Elimination
The mission of the Division of Tuberculosis Elimination (DTBE) is to promote health and quality of life by preventing, controlling, and eventually eliminating tuberculosis from the United States, and by collaborating with other countries and international partners in controlling tuberculosis worldwide.
Find TB Resources Website
This website provides a central, comprehensive searchable database of international, national, state, and local TB-related education and training materials for TB healthcare workers, health professionals, patients, and the general public. Users can also submit their education and training materials as well find information on funding opportunities, TB organizations, TB mailing lists, and TB images.
TB Education & Training Network (TB ETN)
The TB Education and Training Network (TB ETN) was formed to bring TB professionals together to network, share resources, and build education and training skills.
Regional Training and Medical Consultation Centers' TB Training and Education Products
This website provides a searchable list of all 4 RTMCCs' resources.
TB-Related News and Journal Items Weekly Update
Provided by the CDC as a public service, subscribers receive:
A weekly update of TB-related news items
Citations and abstracts to new scientific TB journal articles
TB conference announcements
TB job announcements
To subscribe to this service, click here
TB Behavioral and Social Science Listserv
Sponsored by the DTBE of the CDC and the CDC National Prevention Information Network (NPIN), this Listserv provides subscribers the opportunity to exchange information and engage in ongoing discussions about behavioral and social science issues as they relate to tuberculosis prevention and control.
Other RTMCCs
The Curry International Tuberculosis Center serves: Alaska, California, Colorado, Hawaii, Idaho, Montana, Nevada, Oregon, Utah, Washington, Wyoming, Federated State of Micronesia, Northern Mariana Islands, Republic of Marshall Islands, American Samoa, Guam, and the Republic of Palau.
The Heartland National Tuberculosis Center serves: Arizona, Illinois, Iowa, Kansas, Minnesota, Missouri, New Mexico, Nebraska, North Dakota, Oklahoma, South Dakota, Texas, and Wisconsin.
The Southeastern National Tuberculosis Center serves: Alabama, Arkansas, Florida, Georgia, Kentucky, Louisiana, Mississippi, North Carolina, South Carolina, Tennessee, Virginia, Puerto Rico, and the U.S. Virgin Islands.
back to top

Lee B. Reichman, MD, MPH - Executive Director
Reynard J. McDonald, MD - Medical Director
Bonita T. Mangura, MD - Director of Research
Eileen C. Napolitano - Deputy Director
Nisha Ahamed, MPH, CHES - Program Director, Education and Training
Nickolette Gaglia - Northeastern Spotlight Editor
Alfred S. Paspe - User Support Specialist/Webmaster
back to top