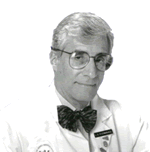 Dear Colleague:
We are very pleased that the NJMS Global Tuberculosis Institute (GTBI) has been refunded by CDC as one of its TB Regional Training and Medical Consultation Centers (RTMCCs). As you may have already heard, for the 2013-2017 grant cycle, CDC is now funding five RTMCCs instead of the previous four. We welcome our new colleagues at the Mayo Clinic Center for Tuberculosis in Rochester, Minnesota to the RTMCC family.
As you can see from the map, GTBI will continue to be the RTMCC for the Northeastern United States, but there have been changes to our region. Indiana, Michigan, Detroit, Ohio are now part of the Mayo Clinic Center region, and West Virginia has shifted over to the Southeastern National Tuberculosis Center region. It has been our pleasure to work closely with these five areas, and our entire project area in the Northeast over the last eight years and we thank all of you in the region for your input, collaboration, and partnership.
Here at the NJMS Global Tuberculosis Institute, there are some additional changes in store during 2013 as well. On July 1, the University of Medicine and Dentistry of New Jersey (UMDNJ), where the New Jersey Medical School is currently located, will become part of Rutgers, The State University of New Jersey. The full details of the transition are still being worked out, but you can expect to see a different look on our website, training materials, and other communications. We will provide more information in the next issue of our newsletter, but wanted to let you all know that though our name will change, our mission and services will stay the same!
As you will see from the articles in this issue of our newsletter, we are already well into the process of planning and implementing trainings for 2013. We look forward to working together with all of you in the states and big cites in our region over the next five years as we continue to provide TB training, medical consultation, and educational materials for the public health workforce.
Sincerely,
Lee B. Reichman, MD, MPH
back to top

Each year, we recognize World TB Day on March 24 to commemorate the day in 1882 when Dr. Robert Koch announced his discovery of Mycobacterium tuberculosis, the bacillus that causes tuberculosis (TB). World TB Day provides the opportunity to raise awareness and tell professionals and non-professionals alike that tuberculosis is still epidemic in much of the world, causing the deaths of nearly one-and-a-half million people each year, mostly in developing countries.

For the second year, CDC joined the global Stop TB Partnership in adopting the slogan "Stop TB in my lifetime." This slogan goes with the theme of calling for a world free of TB. This two-year campaign builds upon the messages and resources developed during the last World TB Day.

While great strides have been made to control and cure TB, this disease is still a problem and more should be done so that one day TB is eliminated. Everyone has a role to play so that someday TB will be eliminated.
GTBI again partnered with the New York City Department of Health and Mental Hygiene, Bureau of Tuberculosis Control to offer a one day conference in commemoration of World TB Day. This year's theme was "Toward Zero TB". It was held on Friday, March 22, 2013 and attended by 175 participants. Speakers addressed TB prevention and control efforts in New York City and updated nurses, physicians and other healthcare professionals on new treatment modalities, laboratory testing for TB, ethical aspects of treating TB, management of TB-HIV co-infection, and steps to address TB among foreign-born persons. Our keynote speaker, Dr. Salmaan Keshavjee discussed the historical, biological, and social context of drug-resistant TB in the US and globally as well as strategies to stem tuberculosis.
The Bureau of Tuberculosis Control along with GTBI and others, also sponsored the first Annual New York City World TB Day Walk on Saturday, March 23rd. Over 100 people participated in this awareness-raising walk from Union Square to Washington Square. This was followed by a performance by the New York Stars Twirling and Marching Band, Inc. as walkers entered the educational rally. The diverse roster of speakers included Dr. Joseph Burzynski, Assistant Commissioner at the New York City Department of Health and Mental Hygiene, Bureau of TB Control, TB survivors Jigna Rao, Bart Willems, and Patricia Bond, as well as New York City Council Member Dr. Mathieu Eugene. The NY City DOHMH and community organizations provided educational materials and information on accessing community resources. This event united a diverse group of community stakeholders to build partnerships, educate the community and raise awareness that TB is still a prominent health issue in NYC and around the world.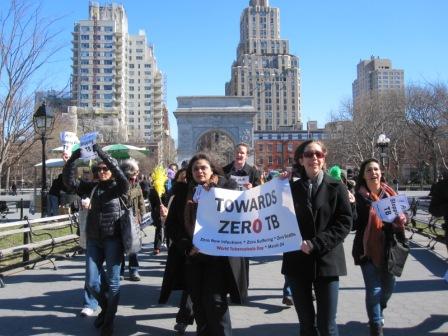 The World TB Day Walk going through Washington Square Park
back to top

We are excited to announce several new changes in how you can connect with the NJMS Global Tuberculosis Institute. We are proud to announce our newly redesigned website, which is easier to read and navigate, so you can quickly find the latest information about our TB trainings, resources and services. Visit our new website at http://globaltb.njms.rutgers.edu/index.html.

So you can connect with us at work or on the go, we also have a mobile version of our website, which can be accessed on your smartphone, computer or tablet. Visit our mobile site at http://globaltb.njms.rutgers.edu/m/.

Finally, you can connect with us on Facebook and Twitter to learn what's new in TB, get our latest educational materials and training updates, and engage with other TB health professionals.

We look forward to connecting with you through these new and exciting channels. It's easy:

Like us on Facebook and Follow us on Twitter!
back to top

Global TB Institute Announces New Multimedia Videos on LTBI
GTBI is excited to announce a new set of online educational materials! This series of brief multimedia videos covers the screening, diagnosis and treatment of latent tuberculosis infection (LTBI) and includes information on targeted testing, the 12-dose regimen, adverse effects and special circumstances in LTBI treatment. The videos are targeted to community health providers, including those working at federally qualified health centers and range in length from 5-15 minutes. The multimedia videos seamlessly incorporate eye-catching images, dynamic text, and voice to create an engaging and effective learning tool.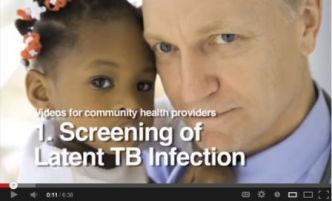 They also offer a unique opportunity to provide education about LTBI, as they can be easily viewed and shared online. The video series can be viewed on any smartphone, computer or tablet, and are accessible whether you are at home, at work or on the go. They were developed last year based on input from TB programs in the Northeast and healthcare workers at community health centers, hospitals, private practices and public clinics and health departments. They were then pilot-tested in the Fall of 2012, and the final versions and additional resources are now available at http://globaltb.njms.rutgers.edu/products/ltbimultimedia.htm.

If you have any questions about the multimedia videos, please contact Jennifer K. Campbell at jennifer.k.campbell@rutgers.edu or 973-972-1261.
back to top

Diagnosis and Treatment of Latent Tuberculosis Infection (LTBI) 2012
This pocket-sized drug treatment card for clinicians provides information on diagnosis of latent tuberculosis infection and therapy options and recommendations for infected patients. The 2012 revision incorporates new developments and recommendations, such as the new 12-dose Isoniazid and Rifapentine regimen for treatment of latent TB infection and the use of interferon-gamma release assays (IGRAs). The pocket card features a new format with a full page table describing all recommended treatment regimens.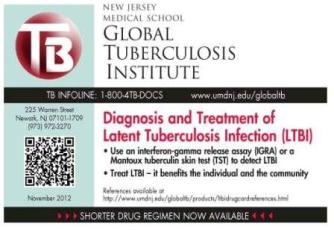 The new card is available online.
back to top

Basic Epidemiology for Tuberculosis Program Staff – 2nd Edition
The 2nd edition of this guide provides a background on basic epidemiology for TB program staff as well as descriptions of how these concepts can be put to practical use. The guide also contains information on epidemiologic and statistical techniques that are used in research studies and a chapter on TB genotyping. The information in this guide will assist in analyzing data, assessing current and evolving trends in TB morbidity, identifying risk groups and determining where to allocate staff and resource.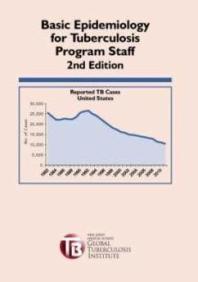 The new booklet is available online.
back to top

The New Jersey Medical School Global Tuberculosis Institute (GTBI) sponsors courses and web-based seminars on tuberculosis. GTBI web-based seminars are open to all participants in the United States. For in-person courses, GTBI prioritizes participants from the Northeast Region (Baltimore, Connecticut, Delaware, Maine, Maryland, Massachusetts, New Hampshire, New Jersey, New York City, New York State, Pennsylvania, Philadelphia, Rhode Island, Vermont, and Washington, DC), which is served by GTBI.

Click here for the list of upcoming courses.
back to top

GTBI faculty and staff respond to requests from healthcare providers seeking medical consultation. Consultants can be reached by calling the TB Infoline: 1-800-4TB-DOCS or by Email

During each consultation, the GTBI consultants will advise callers about resources/TB Programs in their jurisdiction. In addition, TB programs will be informed of TB cases with public health implications such as MDR/XDR-TB, pediatric TB in children <5, or potential outbreak situations.

More information about our consultation service, including downloadable Core TB Resources, can be accessed at http://globaltb.njms.rutgers.edu/services/medicalconsultation.html
back to top

Medical Consultant Web-Based Grand Rounds
Periodically, designated TB program medical consultants are invited to participate in a web-based TB case conference (Grand Rounds). Consultants are encouraged to present challenging TB cases and get feedback from their colleagues throughout the Region. TB program Medical Consultants who would like to present a case should contact Dr. Alfred Lardizabal at 973-972-8452 or lardizaa@njms.rutgers.edu.
back to top

Faculty Profile - Marian R. Passannante, PhD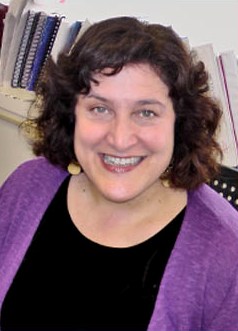 Dr. Marian Passannante is an Associate Professor of Biostatistics and Epidemiology and Interim Vice Chair in the Department of Preventive Medicine and Community Health in the UMDNJ- New Jersey Medical School. In addition, she is the Chair designate and an Associate Professor in the Quantitative Methods Division: Biostatistics and Epidemiology of the UMDNJ-School of Public Health (SPH) on the Newark Campus. Here at GTBI, we consider ourselves very lucky that she is also is an active member of the NJMS Global Tuberculosis Institute!

Dr. Passannante earned her bachelor's degree from Vassar College in 1978 and her doctoral degree from the Johns Hopkins University School of Hygiene and Public Health in 1983. After completing her doctoral work, she joined the UMDNJ- New Jersey Medical School (NJMS). Dr. Passannante was one of the founding members of the UMDNJ-School of Public Health's Newark Campus. She currently serves as the Chair of the SPH Newark Campus Curriculum Committee and as the epidemiologist on a wide range of CDC and NIH grant-funded projects. Her areas of interest and expertise include the impact of social factors on disease outcomes, questionnaire design/survey research, the epidemiology of tuberculosis and injury epidemiology. Dr. Passannante is also an active member of the Epidemiology Section of the American Public Health Association.

Dr. Passannante teaches courses on biostatistics and epidemiology to medical and public health students and survey research methods to masters and doctoral level students at the SPH. Her outstanding teaching skills and accomplishments have been recognized both at NJMS and by a larger group of her peers. She has been the recipient of many teaching awards both from students and the administration at NJMS and is a Member of the Stuart D Cook MD Master Educators' Guild at the school. Dr. Passannante has received the "Golden Apple" award from her students several times. This spring she received national recognition when the Association for Prevention Teaching and Research (APTR) recognized her for Outstanding Academic Leadership, Teaching, and Research in the Field of Prevention and Population Health. On March 12th she received the 2013 F. Marian Bishop Outstanding Educator Award in Washington, DC.

As if all of that wasn't enough to keep her busy, Dr. Passannante has been a co-investigator on clinical research projects undertaken by Dr. Lee B. Reichman and his colleagues, and has a long history of working with physicians here at GTBI. In fact, she first collaborated with Dr. Reichman on a smoking cessation project before the resurgence of TB in the late 80's. Later, when GTBI was first funded by CDC as Model TB Center, Dr. Reichman invited her to work here as an epidemiologist.

In addition to her research work with the GTBI team, Dr. Passannante works closely with our medical faculty and the Education & Training staff. She was the leading force behind two of our educational materials. Incorporating TB into Public Health Core Curriculum material is a compilation of TB-related teaching materials for use in core courses of MPH programs and is utilized both nationally and internationally. Basic Epidemiology for TB Control Staff, which is described earlier in this newsletter, is a brief practical guide that has just been revised and re-released. Dr. Passannante lectures at our training courses, meets with minifellows, and provides invaluable guidance on needs assessment and survey tools and analysis. She also helped develop the TB offering of the NJMS Preventive Medicine/Public Health Clerkship, which gives her the opportunity to use her award-winning teaching skills and perhaps spark interest in TB in young medical professionals!

Dr. Passannante is married and has two children, a 13 year old son and a 22 year old daughter. She enjoys travel, especially to Italy (see below) and London. On her wish list is a trip to Russia.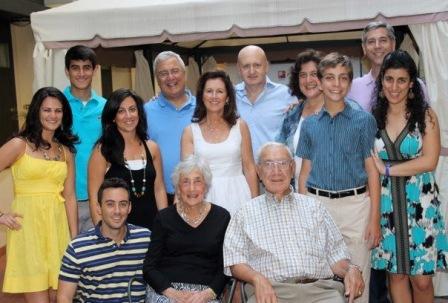 Dr. Passannante and her family in Italy.
back to top

Division of Tuberculosis Elimination
The mission of the Division of Tuberculosis Elimination (DTBE) is to promote health and quality of life by preventing, controlling, and eventually eliminating tuberculosis from the United States, and by collaborating with other countries and international partners in controlling tuberculosis worldwide.

Find TB Resources Website
This website provides a central, comprehensive searchable database of international, national, state, and local TB-related education and training materials for TB healthcare workers, health professionals, patients, and the general public. Users can also submit their education and training materials as well find information on funding opportunities, TB organizations, TB mailing lists, and TB images.

TB Education & Training Network (TB ETN)
The TB Education and Training Network (TB ETN) was formed to bring TB professionals together to network, share resources, and build education and training skills.

Regional Training and Medical Consultation Centers' TB Training and Education Products
This website provides a searchable list of all RTMCCs' resources.

TB Wire and TB-Related News and Journal Items Weekly Update appear in a new combined format. Contents include:
Announcements
Washington Update
Linkable Journal Abstracts
Resources/Training
Selected TB Reports
Grants, Job Opportunities
Meetings, Conferences & Events
To subscribe to this service, click here
TB Behavioral and Social Science Listserv
Sponsored by the DTBE of the CDC and the CDC National Prevention Information Network (NPIN), this Listserv provides subscribers the opportunity to exchange information and engage in ongoing discussions about behavioral and social science issues as they relate to tuberculosis prevention and control.
Other RTMCCs
The Curry International Tuberculosis Center serves: Alaska, California, Colorado, Hawaii, Idaho, Nevada, Oregon, Utah, Washington, Federated State of Micronesia, Northern Mariana Islands, Republic of Marshall Islands, American Samoa, Guam, and the Republic of Palau.
The Heartland National Tuberculosis Center serves: Arizona, Arkansas, Kansas, Louisiana, Missouri, New Mexico, Nebraska, Oklahoma, and Texas.

The Mayo Clinic Center for Tuberculosis serves: Illinois, Indiana, Iowa, Michigan, Minnesota, Montana, North Dakota, Ohio, South Dakota, Wisconsin, and Wyoming
The Southeastern National Tuberculosis Center serves: Alabama, Florida, Georgia, Kentucky, Mississippi, North Carolina, South Carolina, Tennessee, Virginia, Puerto Rico, West Virginia, and the U.S. Virgin Islands.
back to top

Lee B. Reichman, MD, MPH - Executive Director
Eileen C. Napolitano - Deputy Director
Alfred Lardizabal, MD – Associate Director
Reynard J. McDonald, MD - Medical Director
Bonita T. Mangura, MD - Director of International Activities
Nisha Ahamed, MPH - Program Director, Education and Training
D.J. McCabe, RN, MSN – Spotlight Editor
back to top