It's been a long cold winter in the Northeast, and here at GTBI we are happy that spring is here, and that our 2014 in person training schedule has begun! We traditionally don't schedule in-person trainings until late March in case Mother Nature decides to intervene. This year though, we collaborated with the other RTMCCs and the National Society of TB Clinicians to offer a half-day training at the 18th Annual Conference of the International Union of Against Tuberculosis and Lung Disease - North American Region in Boston in February. Although the training team was a bit nervous, the weather cooperated, and as you will see below, the training went off without a hitch. I hope that you all are enjoying spring, and that we will see you soon at one of our upcoming trainings or webinars, or at the NTCA meeting in June.
Sincerely,
Dr. Lee B. Reichman
back to top

Continuing the Tradition: The RTMCC/NSTC Clinical Update
For the past several years, the RTMCCs and National Society of TB Clinicians have taken the opportunity, Stateside, at the Union-North American Region Conferences, to host a clinical update, to hone in on specific, current TB topics. On February 26, our Center had the opportunity to take the lead on collaborating once again to conduct this update. The course, "Clinical Update: Meeting the Challenges of Managing TB with New Tools of the Trade" was an exciting 3 hours of lectures, discussions and speaker-audience interactions on the latest in lab values, interferon gamma release assays, and transmission dynamics.
The RTMCCs are rich in expert faculty and we were fortunate to be able to supplement this with equally iconic faculty from the greater Boston area and the Centers for Disease Control and Prevention. Faculty used cases and audience response to make their teaching points. The course ended with a panel on testing in children, which brought out differing, but thought-provoking issues.
As with any high-level content program, recommendations for clinical practice can be unclear and circumstance-specific. With that in mind, the 91 participants from 20 US states and Canada provided feedback on the training. Some commented that they appreciated the controversies in interpretation of current lab testing and will think more about how to interpret and use diagnostic testing results. Many enjoyed the use of cases to illustrate diagnostic challenges and the opportunity to hear from a variety of colleagues.
This course was a fitting lead in to the 3-day Union-North American Region conference that followed. The fact that it provided an opportunity for local staff to attend four days of intense learning around TB issues was welcomed, and we hope this tradition will continue in 2 years.
Submitted by Rajita Bhavaraju, MPH, CHES - Training & Consultation Specialist
Annual New York City World TB Day Conference and Walk
GTBI continued its tradition of collaborating with the New York City Department of Health & Mental Hygiene (DOHMH) Bureau of TB Control to offer a one day conference commemorating World TB Day. This year's theme was "One City. One World. Zero TB". It was held on Friday, March 21, 2014. Speakers and topics were chosen carefully to address the needs of the more than 160 TB healthcare professionals in attendance. In addition to patient management topics such as the use of IGRAs for TB testing and the 12-dose regimen for treating TB infection, the audience learned more about the Affordable Care Act, cultural factors that affect patient care, the use of video DOT to enhance adherence as well as the role of advocacy in the fight to eliminate TB.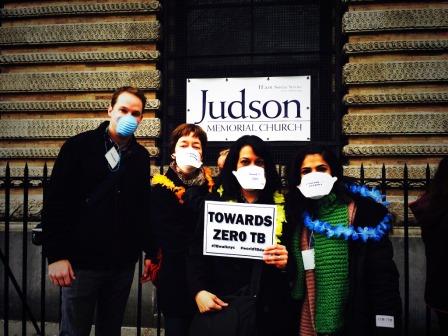 The second Annual New York City TB Walk, attended by over 300 people, took place the following day - Saturday, March 22, 2014. An awareness-raising walk down Broadway from Union Square to Washington Square was followed by an educational rally with a diverse roster of speakers, including several individuals personally affected by TB. The New York City DOHMH and community organizations provided educational materials and information on accessing community resources. This event united a diverse group of community stakeholders to build partnerships, educate the community and raise awareness that TB is still a significant health issue in New York City and around the world.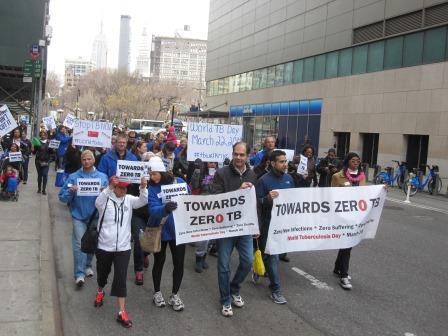 You can see other photos from this year's walk here. Please also like the Walk's Facebook page for the latest updates about next year's walk.
Submitted by DJ McCabe, RN, MSN - Trainer & Consultant Clinical Programs
back to top

CDC's Latent Tuberculosis Infection (LTBI) Mobile Application for Health Care Providers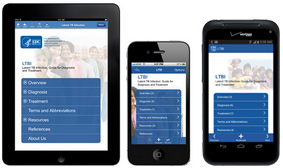 CDC recently released the Latent TB Infection (LTBI): Guide for Diagnosis and Treatment mobile application. This app, which utilizes content from the popular CDC booklet Latent Tuberculosis Infection: A Guide for Primary Health Care Providers, makes it easy to find the latest CDC LTBI recommendations on your iPad, iPhone, iPod Touch, or Android device. To ensure that you always have the most up-to-date information, the content is updated automatically when your device is connected to wireless or cellular service.
This application serves as a ready and useful reference that highlights the main points of key guidelines for diagnosis and treatment of latent TB infection. Key features include:
CDC guidelines on latent TB infection
Treatment table outlining regimen options
TB testing and diagnosis recommendations
TB education and training resources
Sample documentation forms for TB testing
You can personalize your experience with highlighting, annotation, and bookmark options and can share the content with others through social media, such as Facebook and Twitter. For more information you can visit the CDC website, or just go to the AppStore or Googleplay to download the app today!
Submitted by Nisha Ahamed, MPH - Program Director, Education and Training
back to top

Faculty Profile-Ed Zuroweste, MD
Dr. Ed Zuroweste had an interesting and serendipitous journey into the world of tuberculosis (TB). His involvement stemmed from necessity. Working as a family physician in rural Pennsylvania in the early 1980s, he saw lots of migrant farmworkers affected by TB. Since there was a lack of expertise in the area, Ed decided to learn more about TB so that he could better serve his clients. HIV had also arrived on the scene, which complicated matters even more. The first person diagnosed with HIV in Franklin County, PA was actually a migrant farmworker from Haiti. Ed saw lots of TB/HIV coinfection, and had to get involved and become an expert for his patients. At the time, there was not a lot of information available. At one point, Ed called the Centers for Disease Control and Prevention (CDC) to let them know that the MMWR article on tuberculosis among migrant farm workers was out of date. He eventually was invited by CDC to join the committee to update the information.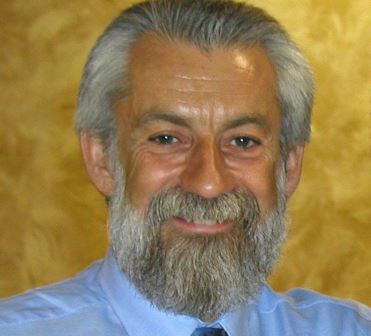 Over the years, Ed has become an integral part of several organizations due to his work in TB. In 1985, he became involved with the Migrant Clinician's Network (MCN), and currently serves as the Chief Medical Officer. The MCN is a global organization that serves as a professional home for clinicians serving migrants and other poor mobile populations. He also became involved with the National Coalition for the Elimination of TB (NCET), which eventually became Stop TB USA, and served as the Chair 2004-2006. Ed is currently a Board Member of Stop TB USA, whose mission is to strengthen TB prevention, care and control in the United States. He was also invited by the CDC to present about migrant farmworkers at several of the National TB Controller's Meetings. In addition, he serves as a Clinical Consultant for the Bureau of Primary Health Care and recently travelled to American Samoa for a site visit of a health center there. His experiences with these diverse organizations were beneficial, as he got to meet national experts and learn even more about TB. He is currently working with 6 local health departments in Pennsylvania as the TB clinician and in January 2013, Ed became the TB Consultant for Pennsylvania.
Ed feels the biggest challenge facing TB healthcare workers is keeping it on the public's radar, and that TB can easily become out of control again. He is concerned that if we don't push hard enough to get control of TB, it will come back and bite us, and notes he has recently seen a lot more cases of multidrug-resistant TB (MDR) in the clinics. With the number of cases down, he fears people will forget about TB. Then, funding will decrease, resulting in a smaller infrastructure and ultimately a resurgence of TB. He believes outbreaks could occur all over without the persistence and hard work of health care workers in finding cases.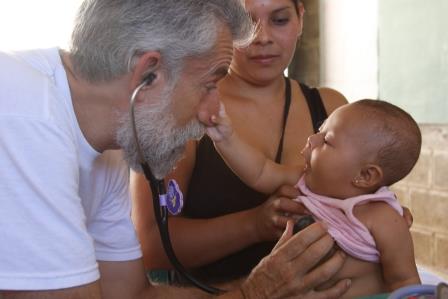 Ed notes his favorite part of working in TB is meeting all the interesting people in clinic; they have a wide variety of backgrounds and cultures, and have amazing stories. In the two clinics he held last week, he saw thirty patients that spoke 12-14 languages! He also finds treating patients with tuberculosis to be satisfying. In the clinic, he can see people on the brink of death returned to normal health given the appropriate treatment. He loves working with the staff at the TB clinics; he has high praise for the great nurses and outreach workers who care about people and want to do all they can to help their clients.
When he is not running a TB clinic, Ed can be found running. An avid runner his whole life, he has completed 30 marathons, the first of which was while he was a family practice intern. He has done the Marine Corp marathon in Washington, DC over twelve times, and the Honolulu marathon was his favorite. He also loves to travel and see the world. For the past 18 years, he has also combined his love of travel with his passion for meeting and helping people through a Johns Hopkins School of Medicine program where he takes medical students to Honduras. Students travel to a very rural area with few resources, and learn they can do an amazing amount of public health work with just a few things, such as clean water, basic antibiotics and immunizations. Ed finds his work in Honduras to be more than medicine, and describes it as very fulfilling and worthwhile. It is very clear that Ed is a dedicated, compassionate physician and teacher, and those of us involved in TB control are all very lucky to have his experience, motivation, and boundless energy in our corner!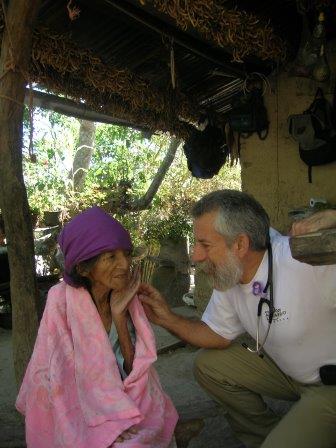 Submitted by Jennifer K. Campbell, MPH CHES - Training and Consultation Specialist
back to top

It's hard to know who will miss him more .… colleagues and coworkers, medical students, or his patients. When Dr. Reynard J. McDonald (aka Dr. Mac) retires in June, he will definitely leave a void at GTBI and the extended TB world as well.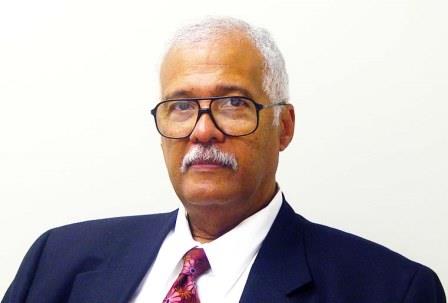 He has been affiliated with the New Jersey Medical School (NJMS) and the Global TB Institute (GTBI) since the mid-70's. Currently, he is Professor of Medicine at NJMS and the Medical Director of GTBI. Students and colleagues alike get his undivided attention.
When he collaborates with our Education & Training staff, whether it's for course lectures, TB Grand Rounds, or mentoring medical students, we can always expect rave reviews!
Dr. McDonald is also a respected colleague in the clinical arena, sharing his many years of experience with GTBI staff and others answering the TB Info line calls from healthcare providers and patients alike.
But perhaps his most lasting legacy is the gentle and unhurried way he interacts with his patients and assures them that they can achieve the goal of treatment cure and live full lives in spite of tuberculosis. Dr. McDonald's patients range from the poor and homeless to wealthy middle and upper class individuals – but they all receive the same compassionate care. One grateful patient made an endowment that allowed for the establishment of the Annual Reynard J. McDonald World TB Day Lecture to honor his compassion, empathy and humanism.
We wish Dr. McDonald all the best in his retirement.
back to top

Upcoming NE RTMCC Training
The New Jersey Medical School Global Tuberculosis Institute (GTBI) sponsors courses and web-based seminars on tuberculosis. GTBI web-based seminars are open to all participants in the United States. For in-person courses, GTBI prioritizes participants from the Northeast Region (Baltimore, Connecticut, Delaware, Maine, Maryland, Massachusetts, New Hampshire, New Jersey, New York City, New York State, Pennsylvania, Philadelphia, Rhode Island, Vermont, and Washington, DC), which is served by GTBI.
Click here for the list of upcoming courses.
back to top

GTBI faculty and staff respond to requests from healthcare providers seeking medical consultation. Consultants can be reached by calling the TB Info line: 1-800-4TB-DOCS or by Email
During each consultation, the GTBI consultants will advise callers about resources/TB Programs http://www.cdc.gov/tb/links/tboffices.htm in their jurisdiction. In addition, TB programs will be informed of TB cases with public health implications such as MDR/XDR-TB, pediatric TB in children <5, or potential outbreak situations.
More information about our consultation service, including downloadable Core TB Resources, can be accessed at http://globaltb.njms.rutgers.edu/services/medicalconsultation.html
back to top

Division of Tuberculosis Elimination
The mission of the Division of Tuberculosis Elimination (DTBE) is to promote health and quality of life by preventing, controlling, and eventually eliminating tuberculosis from the United States, and by collaborating with other countries and international partners in controlling tuberculosis worldwide.
Find TB Resources Website
This website provides a central, comprehensive searchable database of international, national, state, and local TB-related education and training materials for TB healthcare workers, health professionals, patients, and the general public. Users can also submit their education and training materials as well find information on funding opportunities, TB organizations, TB mailing lists, and TB images.
TB Education & Training Network (TB ETN)
The TB Education and Training Network (TB ETN) was formed to bring TB professionals together to network, share resources, and build education and training skills.
Regional Training and Medical Consultation Centers' TB Training and Education Products
This website provides a searchable list of all RTMCCs' resources.
TB Wire Newsletter
Contents include:
Announcements
Washington Update
Linkable Journal Abstracts
Resources/Training
Selected TB Reports
Grants, Job Opportunities
Meetings, Conferences & Events
To subscribe to this service, click here
TB Behavioral and Social Science Listserv
Sponsored by the DTBE of the CDC and the CDC National Prevention Information Network (NPIN), this Listserv provides subscribers the opportunity to exchange information and engage in ongoing discussions about behavioral and social science issues as they relate to tuberculosis prevention and control.
Other RTMCCs
The Curry International Tuberculosis Center serves: Alaska, California, Colorado, Hawaii, Idaho, Nevada, Oregon, Utah, Washington, Federated State of Micronesia, Northern Mariana Islands, Republic of Marshall Islands, American Samoa, Guam, and the Republic of Palau.
The Heartland National Tuberculosis Center serves: Arizona, Arkansas, Kansas, Louisiana, Missouri, New Mexico, Nebraska, Oklahoma, and Texas.

The Mayo Clinic Center for Tuberculosis serves: Illinois, Indiana, Iowa, Michigan, Minnesota, Montana, North Dakota, Ohio, South Dakota, Wisconsin, and Wyoming
The Southeastern National Tuberculosis Center serves: Alabama, Florida, Georgia, Kentucky, Mississippi, North Carolina, South Carolina, Tennessee, Virginia, Puerto Rico, West Virginia, and the U.S. Virgin Islands.
back to top

Lee B. Reichman, MD, MPH - Executive Director
Eileen C. Napolitano - Deputy Director
Alfred Lardizabal, MD – Associate Director
Reynard J. McDonald, MD - Medical Director
Bonita T. Mangura, MD - Director of International Activities
Nisha Ahamed, MPH - Program Director, Education and Training
D.J. McCabe, RN, MSN – Spotlight Editor
back to top