This has been a year of many changes here at GTBI, but as always, we have been pleased to work closely with all of you, our partners in the Northeast region, to provide training, technical assistance, and medical consultation. We continued to work with you all to offer the majority of our training courses off-site this year; eleven of our fifteen in-person trainings were held at sites throughout the region. We truly appreciate the collaborative efforts of the TB programs we worked with to plan and implement these off-site trainings.
One of the major changes this year is the retirement of Deputy Director, Eileen Napolitano who leaves GTBI at the end of December. Please be sure to read the Profile in this newsletter. She's been one of the driving forces as we moved from a Model Center to an RTMCC. She's a "hard act to follow", but because of the foundation she's laid, we will continue to carry on her good work. Thanks for all you did Eileen! We are also saying goodbye to longtime Training and Consultation Specialist Rajita Bhavaraju, who has been at GTBI for 17 years and has coordinated countless successful trainings and developed a plethora of TB educational materials during her time here. You can read more about Rajita in this newsletter as well.
In closing, we'd like to thank you for all your hard work in TB control and prevention this year. Our draft 2015 training calendar is now available on our website and we look forward to working with you and seeing you at these trainings throughout the Northeast in 2015. Best wishes for Happy New Year from all of us here at GTBI.
Sincerely,
Alfred Lardizabal, MD
back to top

TB Program Managers Course
On October 1st, 21 participants from Maryland and one from Delaware attended this one-day course held in Annapolis, MD. All were nurses who manage TB at the county level. At the request of the Maryland TB Program, a previous course offering was modified to be a one-day training. Faculty from Maryland TB Control, NJDHSS, and GTBI covered topics that included epidemiology, role of the TB Program Manager, management practices, treatment completion strategies, and training to ensure competency. The attendees appreciated the networking opportunities and the timely topics presented by knowledgeable faculty.
Submitted by: DJ McCabe, RN, MSN – Trainer and Consultant – Clinical Programs
TB at a Crossroads: Staying on Track Towards Elimination
On November 6, 2014, over 100 people attended a one-day conference in Hartford, CT. The conference provided updates in TB, including an overview of current TB control practices, TB/HIV, case management strategies and case presentations. A highlight of the day was a spirited panel discussion on Testing for TB Infection. The panel featured Trini Mathew, MD, MPH; Lloyd Friedman, MD; Mark Lobato, MD and was moderated by Lynn Sosa, MD. Another panel highlighted experiences with the 12 dose regimen for treating TB infection. Speakers and participants were from all over Connecticut. Participants indicated that the expert faculty, course content and panel discussions were major strengths of the conference.
Submitted by: Jennifer K. Campbell, MPH, CHES - Training and Consultation Specialist
GTBI Activities at the International Union Against TB and Lung Disease World Conference on Lung Health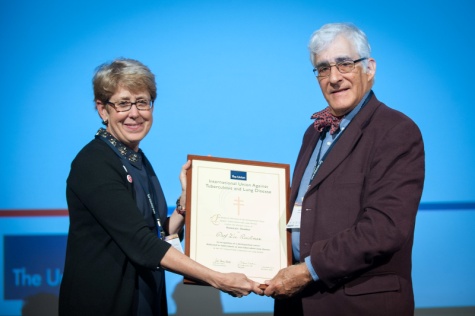 Dr. Reichman with Dr. Jane Carter, President of the Union after being inducted as an Honorary Member.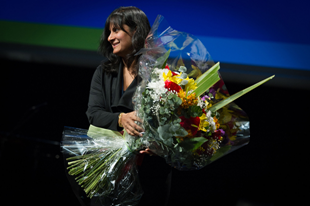 Rajita Bhavaraju, being presented with flowers in thanks for her years of leading the Coordinating Committee of Scientific Activities.
Several members of the GTBI team attended the recent Union World Conference on Lung Health in Barcelona, continuing GTBI's history of participation and leadership within the Union. During the meeting, Dr. Lee B. Reichman was made an Honorary Member of the Union, in recognition of his active, long-time participation in the Union's activities and his efforts toward the fulfillment of its goals. In this role he will serve as an informal advisor to the Union. During her presentation of this award, Dr. E Jane Carter, President of the Union, noted Dr. Reichman's lifelong contributions as well as his mentorship of herself and others throughout his career. In addition, Rajita Bhavaraju completed her 4thand final year as the Chair of the Union Coordinating Committee of Scientific Activities (CCSA), which plans the content of the annual World Conference and oversees member-driven scientific statements and activities. Rajita spoke at the Opening and Closing Ceremonies and spent some time with two of the honored speakers, the Ministers of Health of India and South Africa! During the Opening Ceremony she was recognized by Dr. Carter for her outstanding leadership, dedication and commitment during her time in this position.
Dr. Bonita Mangura just completed a 2-year term of office as the Programme Secretary of the TB Section, which is the largest section within the Union. She served for 2 years previously as the Section's secretary. In this role, she was an active participant in the conference planning, especially in managing the very large number of sessions and abstract submissions for presentation. She also served as liaison between the Union and the TB Section members. As a member and past co-chair of the TB Education and Training Working Group, Nisha Ahamed assisted at the TB Education and Training Materials Display in the exhibition area, where she answered questions about and distributed TB educational materials from a wide range of countries and organizations. She also co-chaired an oral abstract session on community engagement in TB Programmes. And finally, in his role as Vice President/Programme Chair for the North American Region (NAR) of the Union, Dr. Alfred Lardizabal participated in the NAR and Inter-regional Meetings in Barcelona, to discuss plans for next annual NAR Conference, which will take place in Vancouver in February of 2015. Dr. Lardizabal heads the committee that plans the NAR Conference and works throughout the year with the group to develop an engaging and informative conference. Overall the GTBI team had a busy and productive experience at the Union World Conference, and enjoyed the opportunity to share some of their expertise and learn from others attending and presenting at this outstanding conference.
Submitted by Nisha Ahamed, MPH – Program Director, Education and Training
back to top

TB and Cultural Competency: Notes from the Field
We're excited to announce the latest issue of the TB & Cultural Competency: Notes from the Field newsletter is now available. Issue #18: Understanding Cultural Differences highlights the experiences of Dr. Veronica White, a consultant respiratory physician in London. In addition to her medical career, Dr. White also studied Medical Anthropology. Her research involved the treatment of tuberculosis in the Bangladeshi Community in East London. The newsletter describes Dr. White's research exploring cultural barriers to TB treatment and some of the lessons learned. Her research may be useful in other settings and can serve as a reminder to ask questions and try to gain a deeper understanding of the populations we work with.
Submitted by Jennifer K. Campbell, MPH CHES – Training and Consultation Specialist
back to top

Faculty Profile-Eileen Napolitano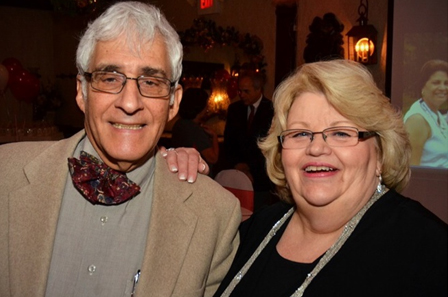 When Eileen Napolitano retires at the end of December, after a 43 year career in public health, it will be the end of an era at the Global Tuberculosis Institute. Eileen has been here at GTBI since its inception. After 22 years at the New Jersey Department of Health, in 1993, after she heard that a Model TB Center was being developed at what was then the University of Medicine and Dentistry of New Jersey, she called up Dr. Lee B. Reichman, GTBI's founding Executive Director, and told him she'd like to be part of his team. She came on board as Deputy Director and has led the center, now known as the Global Tuberculosis Institute at Rutgers, through more than 20 years as a CDC funded TB training center. When Eileen tells the story about the beginning of her GTBI career, she still seems to marvel a bit at her pluck in cold-calling Dr. Reichman. However, for those of us who have had the pleasure of working with her, her determination and farsightedness come as no surprise!
Eileen grew up in Paramus, NJ, as one of five children. When she started her first job in public health at the Bergen County Health Department as a Public Health Representative Trainee in 1971 at the tender age of 22, one of her first tasks was to review and sort all the existing TB records for the county. At that time, the standard of care was still lifetime follow-up, so as Eileen remembers, it was "a whole wall full of records." Eileen commented that before this job, she hadn't really known that TB still existed. After reviewing those hundreds of records though, and completing a CDC home study course, she remembers being intrigued and pleased to have learned so much about something that was previously unknown to her. This was the beginning of lifelong interest in TB, and also typical of Eileen, who continues to enjoy learning and trying new things to this day! Coincidentally, in her first week on the job, she accompanied her boss to a symposium in New York, where she listened with great interest to a presentation by Dr. Lee B. Reichman.
Eileen soon moved to the New Jersey Department of Health as a public health representative, where she was stationed at the Paterson public health department. Among her other jobs, Eileen was the liaison to Preakness Sanatorium in Passaic County. In Paterson, Eileen also began to take a lead role in overseeing the field staff who worked out of the clinic; she remembers fondly the feeling of solidarity with the team that came with working in a "real" public health clinic, and working closely with patients. Within the State Health Department Eileen also held positions as Bureau Chief for TB in Newark and as a regional supervisor.
In 1975, at a meeting sponsored by the American Thoracic Society, Eileen listened with great interest to presentations by Dr. Reichmann and Dr. Waymon Lattimore, for whom GTBI's Lattimore Practice is named. They were presenting on a newly opened clinic in Newark that provided comprehensive pulmonary care to TB patients. Eileen remembers remarking to her boss that this clinic seemed like a great place to work. Later that month, she received a phone call assigning her to the role of Clinic Manager at the Comprehensive Pulmonary Disease Clinic, working with Drs. Reichman, McDonald and Lattimore. As Eileen looks back on that period, she recalls the energetic and vibrant environment, and the satisfying and exhilarating feeling of working with so many dedicated experts, participating in research projects and being at the forefront of TB prevention and control.
After 12 years working in TB Control, Eileen was abruptly reassigned to work in the Sexually Transmitted Disease Division in 1984. Although she admits that she moved reluctantly over to STD, Eileen feels that her time there taught her a great deal about human behavior and also about working together with multiple different levels of personnel, including state federal and local. This was the early days of the HIV epidemic, and during her time at the STD Division HIV testing became available, so it was a very dynamic, evolving period. During this time Eileen and had the opportunity to participate in behavioral research around HIV and risk behavior, which could be used to decrease HIV transmission.
Then came that fateful day in 1993, when Eileen spoke to Dr. Reichman, and in his words, "made it known" that she was very interested in coming back to work with him. He recalls that he couldn't let an opportunity like that pass him by, and hired her on the spot!
When Eileen looks back at the arc of her career at GTBI she can mark the changes in both the epidemiology of TB, locally and nationally, and also in the culture and direction of the clinic and the TB prevention and control effort as a whole. At the beginning of the CDC funded training center project, funds were allocated to develop strategies to stem the ongoing resurgence of TB. Thus, in 1994, as a model TB Center, GTBI focused on innovative approaches to TB prevention and control, working very closely with the state health department. This included developing the model of TB nurse case management and implementing a multidisciplinary team approach at the Lattimore practice including physicians, nurses, social workers, HIV counselors etc. The models and approaches that were developed and tested in the clinic were then standardized and taught to others through training courses. They could then be disseminated even more widely through the creation of educational materials for health care workers.
When Eileen started, the Lattimore Practice had a team of 15 field workers delivering medicines via DOT, to around 150-175 patients at any given time. She recalls it as a busy, hectic and exciting time, which incorporated a new level of collaboration and accountability between the clinic and field staff. Now, 20 years later, with fewer patients, Eileen's role has been focused more on maintaining the operations of GTBI, ranging from patient care, keeping track of and satisfying funding requirements and helping clinic, training and research staff to improve their performance and outcomes. At the beginning of her career, Eileen had what she described as a very 1970s sensibility of wanting to help people. As a public health representative and when she was involved in clinic management and patient care, she was able to do this in a one-on-one setting and have a direct impact, which she found very satisfying. Although she missed that aspect of her job as she advanced in her career, Eileen views her ability to secure funding, ensure continued financial support, mentor staff and oversee the 'big picture' operations at GTBI as her way of continuing to have an impact, albeit in a less direct way. Those of us who work with her recognize the huge impact she continues to have, and also see that her sharp intelligence and over 40 years of public health experience continue to shape all aspects of GTBI to this day. The training team benefits from this perspective, especially when working on projects focusing on TB control and contact investigation, and the clinic when dealing with a challenging patient or TB control situation. The consensus at GTBI is that Eileen's reflections, perspective and insights improve everything she touches!
These days, while the overall numbers of people with TB is decreasing domestically, the complexity of cases is increasing, both clinically and in terms of socioeconomic factors. Eileen has noted an increased examination of the social determinants of health around TB and a shift towards patient centered care and community involvement in TB over the last several years. Under her leadership as Chair of Stop TB USA, the Patient's Forum was established, in keeping with the effort to increase community participation in national TB elimination efforts. In addition to her leadership role at STOP TB USA, Eileen has been a member of the Advisory Council to Eliminate TB. While those who work with her there note her contributions, Eileen, with typical modesty and humbleness always comments how grateful she is for the opportunity to participate in groups like this, and how much she has learned through the experience.
Those who know Eileen also know how devoted she is to both her immediate and extended family. Eileen's husband Frank, who she married shortly after she started her first job in public health, passed away in 2007 after a long illness. Their daughter Stefanie, who accompanied Eileen to many public health meetings during her college years, has followed her mother's footsteps into public health; she is an RN, has an MPH, and currently works as an nurse at a large hospital in New York City. Nothing brings a smile to Eileen's face like talking about her beloved grandchildren Abby and Luke, and she is looking forward to spending more time with them and indeed her whole family including her siblings and her mother during her retirement. Eileen also looks forward to following her lifelong dream of learning to play the piano, and she says, after a few months to relax and unwind, she will start volunteering within her community.
All of us here at GTBI wish Eileen well as she enjoys her retirement and offer her heartfelt gratitude and appreciation for her years of dedicated service. We will miss her keen insight, tremendous wealth of public health knowledge and endless energy and enthusiasm. Luckily for us, she will continue to be involved with STOP TB USA in her role as immediate past president, so we look forward to continuing to work with her in the future!
Submitted by Nisha Ahamed, MPH – Program Director, Education and Training
back to top

Rajita Bhavaraju's Departure from GTBI
Rajita Bhavaraju has been at GTBI since 1997, when she came on board as a Health Educator in the Training Department, after completing her MPH fieldwork project here. In those 17 years Rajita has held several different positions at GTBI, including Training Director and her current position of TB Training and Consultation Specialist. She has played a key role in helping to standardize training activities at GTBI first as a model center and later as a Regional Training and Medical Consultation Center. Many of you who have worked with Rajita over the years will agree that during that time she brought her professionalism, dedication, eye for detail, organization skills and keen TB knowledge to everything she was involved with, which is quite a long list! Rajita has worked on numerous training courses, webinars, and RTMCC and CDC products that included videos, pocket cards, training guides, and facilitator-led trainings on almost every TB topic imaginable!
Rajita has also given presentations and facilitated sessions at many domestic and international TB conferences. Most recently, as was highlighted in this newsletter, Rajita volunteered as Chair of the Coordinating Committee for Scientific Activities of the International Union Against TB and Lung Disease World Conference for four years. She was the first non-physician to hold this position, and all who worked with her in this capacity agree that she was incredibly successful in this role. In fact, this year's Union Conference had more attendees than ever before. In the new year, Rajita will be starting a new position at the Union's New York office heading up their TB technical training programs. We will miss Rajita' s expertise, enthusiasm, quick wit and graciousness around the training department, but wish her well in her new endeavor, and look forward to continuing to work with her in her new role!
Submitted by Nisha Ahamed, MPH – Program Director, Education and Training
back to top

Upcoming NE RTMCC Training
Our draft 2015 training calendar is now available! Please check the link below periodically as we continue to update it and add additional courses and webinars.
http://globaltb.njms.rutgers.edu/training/trainingcalendar.html
back to top

GTBI faculty and staff respond to requests from healthcare providers seeking medical consultation. Consultants can be reached by calling the TB Info line: 1-800-4TB-DOCS or by Email
During each consultation, the GTBI consultants will advise callers about resources/TB Programs in their jurisdiction. In addition, TB programs will be informed of TB cases with public health implications such as MDR/XDR-TB, pediatric TB in children <5, or potential outbreak situations.
More information about our consultation service, including downloadable Core TB Resources, can be accessed at http://globaltb.njms.rutgers.edu/services/medicalconsultation.html
back to top

Division of Tuberculosis Elimination
The mission of the Division of Tuberculosis Elimination (DTBE) is to promote health and quality of life by preventing, controlling, and eventually eliminating tuberculosis from the United States, and by collaborating with other countries and international partners in controlling tuberculosis worldwide.
Find TB Resources Website
This website provides a central, comprehensive searchable database of international, national, state, and local TB-related education and training materials for TB healthcare workers, health professionals, patients, and the general public. Users can also submit their education and training materials as well find information on funding opportunities, TB organizations, TB mailing lists, and TB images.
TB Education & Training Network (TB ETN)
The TB Education and Training Network (TB ETN) was formed to bring TB professionals together to network, share resources, and build education and training skills.
Regional Training and Medical Consultation Centers' TB Training and Education Products
This website provides a searchable list of all RTMCCs' resources.
TB Wire Newsletter
Contents include:
Announcements
Washington Update
Linkable Journal Abstracts
Resources/Training
Selected TB Reports
Grants, Job Opportunities
Meetings, Conferences & Events
To subscribe to this service, click here
Other RTMCCs
The Curry International Tuberculosis Center serves: Alaska, California, Colorado, Hawaii, Idaho, Nevada, Oregon, Utah, Washington, Federated State of Micronesia, Northern Mariana Islands, Republic of Marshall Islands, American Samoa, Guam, and the Republic of Palau.
The Heartland National Tuberculosis Center serves: Arizona, Arkansas, Kansas, Louisiana, Missouri, New Mexico, Nebraska, Oklahoma, and Texas.

The Mayo Clinic Center for Tuberculosis serves: Illinois, Indiana, Iowa, Michigan, Minnesota, Montana, North Dakota, Ohio, South Dakota, Wisconsin, and Wyoming
The Southeastern National Tuberculosis Center serves: Alabama, Florida, Georgia, Kentucky, Mississippi, North Carolina, South Carolina, Tennessee, Virginia, Puerto Rico, West Virginia, and the U.S. Virgin Islands.
back to top

Alfred Lardizabal, MD - Executive Director
Eileen C. Napolitano - Deputy Director
Amee Patrawalla, MD - Medical Director
Bonita T. Mangura, MD - Director of International Activities
Nisha Ahamed, MPH - Program Director, Education and Training
Lee B. Reichman, MD, MPH - Senior Advisor
D.J. McCabe, RN, MSN - Spotlight Editor
back to top