Northeastern Spotlight
Fall 2017 Volume 12 – Number 2
TB Limelight – Diana Nilsen, MD 
Dr. Diana Nilsen is the Director of Medical Affairs, Bureau of Tuberculosis Control (BTBC), NYC Department of Health and Mental Hygiene. In this position, she is responsible for the oversight of medical care received by patients seen at the TB chest centers and in the field. She has extensive knowledge of complex TB issues, provides expert medical consultation to providers, and is responsible for the development of policies and procedures related to TB. She also sees patients in clinic once a week at the Fort Greene chest clinic in Brooklyn.
We would like to draw your attention to another fact about Dr. Nilsen; she happens to be very approachable and down to earth despite her influential position. If you have had the opportunity to work with her, you will find her brilliant and hilarious at the same time!
Reading about her current role, makes it is quite clear that she has a full plate in terms of work responsibilities, but we also discovered that she is the incoming president of the National Tuberculosis Controllers Association (NTCA). When asked about her role with the NTCA she gushes, "NTCA is the leading group on domestic TB control in the United States. The NTCA is heavily  involved in writing guidelines and making policy recommendations. I have been on the board of NTCA on and off for almost a decade and I am very excited about this new opportunity."
In order to understand what drives Dr. Nilsen, we had to explore her past. She graduated from SUNY Health Science Center at Downstate in 1989 and went on to internal medicine residency at the NYU/Manhattan VA. I did pulmonary and critical care fellowship at NYU/Bellevue. medical school from the NYU's VA program in 1990 and went on to join the chest service at Bellevue Hospital. Before going to medical school, she worked as an intensive care unit nurse and liked the high pace of the job. According to Dr. Nilsen, her role as an intensive care unit nurse was what got her interested in the field of pulmonary medicine. She worked as faculty at NYU's Division of Pulmonary and Critical Care Medicine for several years. When asked about the barriers she faced as a female physician in the 90s, she adds, "I was a married female physician and the tide was against us at that time. Navigating the medical profession for a woman of childbearing age was a challenge! Having a child as a medical resident was just unheard of. Luckily, some others things were in place for me. I have a supportive family and my husband was willing to shoulder a lot of the responsibility of raising a family. I am also grateful to my parents who were always available and helped me with my children. I would not have been able to do it without their help."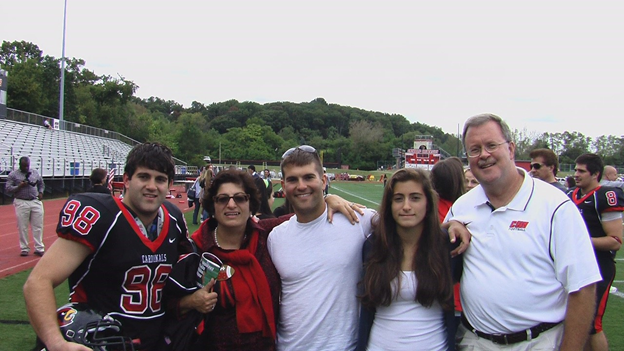 In the photo above: Dr. Diana Nilsen and her family enjoying a football game.
One wonders what drives Dr. Nilsen. In her words, "I am a child of immigrants, my family emigrated from Lebanon. Being a first generation American, the stakes are really high and you want to succeed and make your family proud. I always aspired to be a doctor. I viewed nursing school as a stepping-stone to going to medical school at a later point. For anyone who chooses medicine as a profession, you have to want to do it for the right reasons. The desire to advance intellectually and being passionate about it is key."
According to Dr. Nilsen, the biggest challenge within TB is the cuts in funding. She strongly believes that as health professionals working in the field of TB, we have to advocate for more funding and the ability to treat patients. Many patients are undocumented and don't have the means to pay for their care. Lack of access to care or loss of access to care is a big concern. She goes on to refer to Dr. Lee Reichman's editorial published in October of 1991, titled, 'The U shape curve of concern'. That editorial brings home the point that when support is reduced, case rates rise, and increased disease spread occurs. Because medication taking without supervision becomes inconsistent and sporadic, a rise in multi-drug resistance with transmission to contacts can be anticipated.  "We have to do everything in our capacity to shape the TB infrastructure in order to provide care to patients" advocates Dr. Nilsen.
Simply put it, Dr. Nilsen loves her job. "I am consulted in my bureau for any medical issues related to TB treatment care. I also have the opportunity to outreach and lecture at other institutions. My job is interesting as I wear many hats. The freedom to delve in different topics is very stimulating," gushes Dr. Nilsen.
Like other visionaries in the field, Dr. Nilsen has put a lot of thought into the future of TB. She feels that it is getting harder to engage young physicians as TB is a complex health issue. Patient management for TB for has been around for years but how the patient's personal and social life affects their disease is what needs to be taught to the younger physicians. Dr. Nilsen has some friendly advice for future TB professionals, "Get involved as TB people are very accommodating! However, TB is a complex disease and a great imitator. TB will keep you on your toes. Always remember, it is treatment of a community and not just an individual."
According to Dr. Felicia  Dworkin, deputy director of medical affairs at New York City Department of Health and Mental Hygiene, "I have witnessed firsthand Diana's commitment to her patients, the doctors and staff we supervise but foremost to the NYC Bureau of TB Control. She also has long-standing involvement with the New Jersey RTMCC, ACET and several NTCA working groups, working most recently on the LTBI and MDR TB guidelines with NTCA. She has enriches many lives with her work." 
Dr. Lee Reichman the founder and senior medical advisor of the Global TB Institute express his views on working with Dr. Nilsen, "Diana Nilsen is one of the most knowledgeable physicians dealing with TB that I know. I was particularly delighted to note that she has been elected Chair of NTCA. With her kindness and sense of humor she will undoubtedly score major advances not only for the TB Controllers, but for our patients as well as the entire TB community."
At the Global TB Institute, we have been fortunate to have Dr. Nilsen join us as a popular faculty member at many of our trainings. As the president of NTCA, we are confident that Dr. Nilsen will continue to bring new information from research, innovations in TB diagnosis and management and policies to the members of NTCA and the whole TB community.
When Dr. Nilsen is not in TB mode, she is definitely spending time with her family. "I have been married for 35 years and have 3 kids, so it has been busy. I love spending time with family so if I am not working, I am just hanging out with my family. But I have to mention, I also love the beach!" remarks, Dr. Nilsen. 
Submitted by Arpita Jindani, MSW, MA – Health Educator