Tuberculosis Case Management for Nurses Workshop: The Facilitator's Guide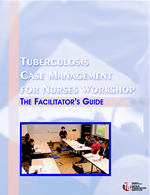 This resource outlines the process of planning and conducting a two-day, interactive workshop for TB nurse case managers and is available as an online product. Several of the sections are in PDF format, and for sections that are designed to be modified, the files are in MS Word.
Please contact Anita Khilall at anita.khilall@rutgers.edu.