TB Control
Basic Epidemiology for Tuberculosis Program Staff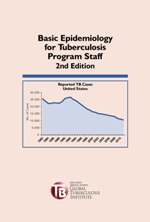 The 2nd edition of this guide provides a background on basic epidemiology for TB program staff as well as descriptions of how
these concepts can be put to practical use. The guide also contains information on epidemiologic and statistical techniques
that are used in research studies and a chapter on TB genotyping. The information in this guide will assist in analyzing data, assessing current and evolving trends in TB morbidity, identifying risk groups and determining where to allocate staff and resources.

View PDF (4.5 MB)


Order Now
Federally Qualified Health Centers (FQHC) Toolkit
Effective TB prevention and control requires a collaborative approach between many partners, including health departments or public health programs and providers in the community, including those at community health centers (CHCs) and federally qualified health centers (FQHCs). This toolkit is designed to provide key information for both health departments and community health centers, including FQHCs. The toolkit contains links to training and resources and suggestions on how they can be used by health departments and CHCs. The toolkit is intended as a resource for building partnerships and accessing relevant information. It is an evolving document, so please check frequently for updated information.
Link
Tuberculosis Case Management for Nurses: Self-Study Modules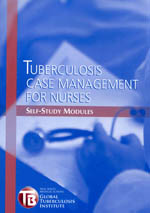 These four self-study modules provide an overview of public health nursing and discuss the fundamentals of TB case management, leadership skills of the nurse case manager and management of the pediatric patient. Each module contains review questions and references.
Module 1: Overview of Public Health and Public Health Nursing [PDF]
This module provides an overview of public health, focusing on key concepts such as the definition and objectives of public health, as well as the Core Functions of Public Health. Included is a discussion of public health nursing, a brief history of the specialty and its role in the management of tuberculosis.
Module 2: Fundamentals of Tuberculosis Case Management [PDF]
This module provides an overview of case management including a brief history and definitions as described by the American Nurses Association and the National Case Management Task Force. The elements and activities of TB Case Management are described in detail.
Module 3: Leadership Skills of the Nurse Case Manager [PDF]
Case Management is a competency involving specific skills and knowledge. This module explores the areas of cultural competency, team building, delegation and conflict resolution.
Module 4: The Pediatric Patient [PDF]
In this module, special attention is given to TB Case Management activities related to the pediatric population. This module addresses the issues in greater detail, including a comparison of childhood and adult TB, common barriers to adherence, and age-appropriate strategies.
Glossary of Terms [PDF]

Order Now
Implementing Legal Interventions for the Control of Tuberculosis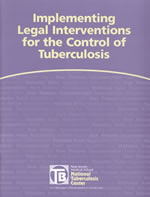 This resource describes a process by which TB programs can effectively implement legal interventions to gain and maintain the adherence of their patients. Legal interventions are described as a method of last resort, to be implemented in the least restrictive environment possible while balancing the rights of the patient with those of the public. As such, the resource discusses elements that every TB treatment regimen should include, such as case management and the use of incentives and enablers. Included are teaching cases and sample letters that TB programs can adapt to suit local needs.
This material is available on-line only.

View PDF (5 MB)
Additional documents (forms):
TB Field Investigation: A Resource for the Health Care Worker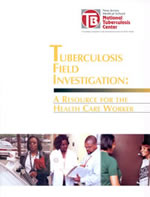 This resource describes the TB field investigation process including pre-investigation preparation, communication with individuals in the field, confidentiality, field safety and working with community providers. A checklist to be used during field work is also included.
This material is available on-line only.

View PDF (762 KB)
Additional documents (forms):
Tuberculosis Field Investigation Checklist [PDF]
TB Interviewing for Contact Investigation: A Practical Resource for the Healthcare Worker
This resource set includes an interview checklist and detailed TB interview outline booklet. The checklist identifies the five components of a TB interview: pre-interview activities, introduction, information/education exchange, contact identification and conclusion, detailed in the outline.

View PDF (172 KB)


View PDF
Additional documents (forms):
Treating the Patient with Tuberculosis: A Guide for Collaborating with Community Physicians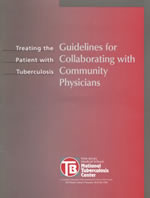 This guide was designed to facilitate communication between state and local health department personnel and community providers who treat TB patients. It contains templates for letters and forms to facilitate this communication.
This material is available on-line only.

View PDF (158 KB)
Additional documents (forms/templates):
Tuberculosis Education and the Congregate Setting Contact Investigation: A Resource for the Public Health Worker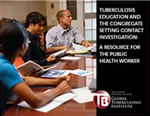 The TB education session is a vital part of the congregate setting contact investigation. This web-based resource will assist public health workers as they plan and conduct an effective TB education session in the congregate setting. Following the guidelines and using the PowerPoint ® presentation provided, they can teach the lay audience what it needs to know about TB transmission, infection, disease, skin testing and treatment. This resource includes: a complete, modifiable TB-education presentation, frequently asked questions about TB, specific to congregate setting contact investigations, TB vocabulary for lay audiences, pull-out TB fact sheet and an education session evaluation form.
This material is available on-line only.

View PDF (867 KB)