TB Training Roadmap-Cultural Competency and Patient Communication
The TB Nurse Case Manager is a qualified nurse who uses effective communication skills when interacting with patients, families and healthcare providers. In addition, they should demonstrate effective oral and written communication skills, use communication strategies that build trust and rapport and demonstrate a non-judgemental manner, in actions and communications with others.
Training Materials
Cultural Competency and Tuberculosis Care: A Guide for Self-Study and Self-Assessment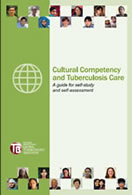 Organization:Global Tuberculosis Institute (GTBI)
Year: 2008
Description: This resource was developed for the public health workforce and other healthcare providers. It is intended as a tool to begin to explore the knowledge, skills, and attitudes necessary for cultural competency in general, with a focus on TB control activities. The guide utilizes a culture general perspective and includes a self-assessment tool, teaching cases, and links to other cultural competency resources.
Format: Booklet

Link
Making the Connection: An Introduction to Interpretation Skills for TB Control, 2nd Edition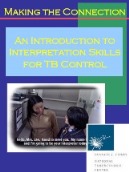 Organization: Curry International Tuberculosis Center (CITC)
Year: 2008
Description: The video and viewer's guide will help guide TB healthcare healthcare providers to work more effectively with interpreters. It will also help equip bilingual or multilingual TB staff with fundamental interpreting skills as they may be asked to interpret when a trained interpreter is not available. The video is available online to view or order.
Format: Online video or YouTube Video (29:21 minutes)

Link
Working Effectively with Diverse Populations
Organization: GTBI
Year: 2009
Description: This webinar provides a basic foundation for understanding cultural differences in health attitudes, beliefs, behaviors, and language, which can help providers to function more effectively in cross-cultural activities. The training develops a culture-general perspective, explores how to provide patient-centered care to diverse populations, and illustrates use if new technologies to ensure effective communication with clients from other cultures.
Format: Webinar

Link
Resource Materials
Country Specific Guides for Healthcare Professionals Working with Foreign-Born TB Clients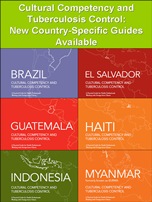 Organization: Southestern National Tuberculosis Center (SNTC)
Year: 2008
Description: The guide is comprised of an introduction and individual country-specific summaries for the birth countries most commonly reported by foreign-born cases treated in the United States. Country summaries are available for Brazil, Cambodia, Dominican Republic, Ecuador, El Salvador, Guatemala, Haiti, Honduras, India, Indonesia, Mexico, Myanmar (formerly Burma), Philippines, Somalia and Vietnam.
Format: Manual

Link
Country Specific Quick Reference Guides

Promoting Cultural Sensitivity-A Practical Guide for Tuberculosis Programs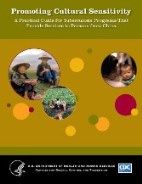 Organization: CDC
Year: 2008
Description: This guide is part of a series that aims to help TB program staff provide culturally competent TB care to some of the U.S.'s highest priority foreign-born populations. Other guides in the series focus on people from China, Mexico, Vietnam, and Somalia. This guide is intended for health care providers, community-based workers, program planners, administrators and health educators,.
Format: Book

Link
TB & Cultural Competency: Notes from the Field
¡Vivir a Todo Pulmón! Toolkit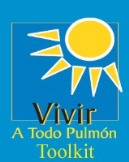 Organization: SNTC
Year: 2008
Description: This is a set of educational tools to address tuberculosis in Spanish-speaking foreign-born communities. These tools include: User's Guide, Awareness Poster, 2008 Calendar, Audio files: 30- and 60-second PSAs, Novela Strip, Awareness Fotonovela, and Adherence Fotonovela.
Format: Kit

Link
What You Need to Know About Tuberculosis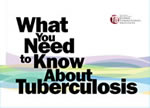 Organization: GTBI
Year: 2009
Description: This portable TB patient education resource was developed for TB program staff, including physicians, nurses, disease investigators, and case managers who provide one-on-one or small group patient education. The TB patient education flipbook has sections on TB testing, TB infection, and TB disease and includes panels for patients with simple text and images to reinforce key points. Corresponding panels for providers include an easy to deliver script and teaching points.
Format: Flipbook

Link
Testing for Tuberculosis (TB)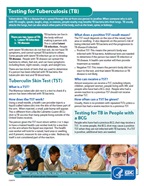 What You Need to Know About the TB Skin Test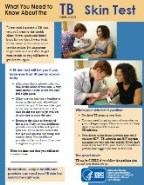 Patient Education Materials Series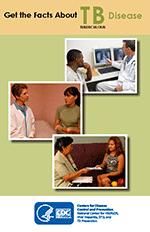 Organization: CDC
Year: 2005
Description: These booklets and fact sheet were developed for a low-literate audience and cover the following topics: the TB skin test, TB and HIV, TB infection, TB disease, contact investigations, and TB medicine. These materials are available in English, Spanish, and Tagalog.
Format: Booklet

Link
Tuberculosis Patient Materials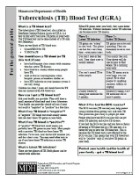 Organization: Minnesota Department of Health
Year: 2010
Description: Variety of patient fact sheets and videos. Fact sheets cover Active TB Disease, Home Respiratory Precautions for Patients with Potentially Infectious Tuberculosis, Instructions for Collecting Sputum for TB, TB Contact Investigations, TB Skin Test (Mantoux), Treatment for Latent TB Infection and Tuberculosis (TB) Blood Test (IGRA). Fact sheets are available in the following languages: Amharic, Arabic, Bosnian/Croatian/Serbian, English, French, Hmong, Karen, Khmer, Laotian, Nepali, Oromo, Russian, Somali, Spanish, Tibetan, and Vietnamese
Format: Factsheets

Link
Tuberculosis Patient Materials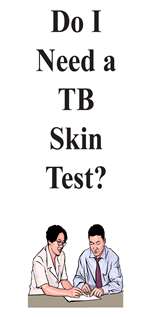 What Parents Need to Know About Tuberculosis (TB) Infection in Children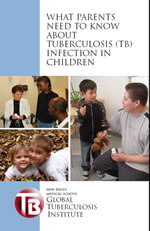 Organization: GTBI
Year: 2008
Description: This brochure provides parents with important information on tuberculosis infection in children. It is designed in a question and answer format with highlighted information for quick and easy readability. The information covered ranges from the definitions of tuberculosis (TB) infection and TB disease to diagnosis and treatment of TB infection. In addition, tips on treatment improving adherence are provided to ensure completion. The brochure can be distributed to parents of children with latent tuberculosis infection and can also used by health care providers when providing education on LTBI to parents.
Format: Brochure/Pamphlet

Link
Back to Directory
Back to Homepage