TB Training Roadmap-Homeless Shelters
Selected Training and Resource Materials
Homelessness and TB Toolkit
Organization: Curry International TB Center (CITC)
Year: 2014
Description: This is an online resource developed to assist both public health programs and homeless service agencies in the important work of TB control among people experiencing homelessness. The toolkit contains guidelines, forms, signs, educational materials, articles, and other resources. Many of the tools found on the site are presented as templates that can be modified or edited for a given program's needs.
Format: Online Resource

Link
Prevention and Control of Tuberculosis Among Homeless Persons (ACET) MMWR 1992; 41 (No. RR-5)
TB Among the Homeless: Dealing with Unique Challenges

Shelters and TB: What Staff Need to Know, Second Edition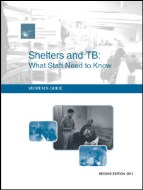 Organization: Curry International Tuberculosis Center (CITC)
Year: 2013
Description: This video helps train all shelter staff and volunteers about how to prevent the spread of TB in homeless shelters. It describes what TB is, how it is spread, what to do when you suspect someone has TB, how to develop and implement a TB infection control policy, and how you and your local health department can work together to create a healthy and safe environment for staff and clients.
Format: Video and Viewer's Guide or YouTube video (18:08 minutes)
Link
Tuberculosis Infection Control: A Practical Manual for Preventing TB
Organization: Curry International Tuberculosis Center (CITC)
Year: 2011
Description: This resource provides information about the guidelines and regulations pertaining to TB infection control, methods of reducing the risk of TB infection, and facility-specific guidelines for reducing the risk and dealing with potential exposure.
Format: Booklet
Link
Back to Directory
Back to Homepage