TB Training Roadmap-Drug Resistance
Selected Training and Resource Materials
Drug-Resistant Tuberculosis: A Survival Guide for Clinicians, 3rd Edition
Organization: Curry International Tuberculosis Center (CITC)
Year: 2016
Description: This booklet contains information and user-friendly tools and templates for use by any clinician who participates in the management of patients with drug-resistant TB. Many elements of the book are helpful for treatment of all TB including comprehensive medication fact sheets, thorough adverse event chapter and case management information.
Format: Booklet

Link
New Directions in MDR TB Treatment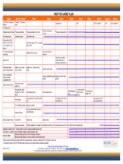 Organization: Heartland National Tuberculosis Center (HNTC)
Year: 2007
Description: This fact sheet provides an easy-to-follow table outlining the care plan for an MDR-TB patient. It provides a step-by-step outline from baseline tests (such as CXR, TST, and laboratory tests) and initiation of treatment through treatment month 24.
Format: Factsheet

PDF
Nurse Case Management of Drug-Resistant Tuberculosis
Organization: Curry International Tuberculosis Center (CITC)
Year: 2015
Description: This webinar was created for nurses, doctors, and other licensed medical professionals and public health professionals involved in managing cases of drug-resistant tuberculosis and evaluating contacts to drug-resistant tuberculosis cases. 
Format: Webinar

Link
Back to Directory
Back to Homepage