TB Training Roadmap-Schools and Colleges
Selected Training and Resource Materials
Tuberculosis Handbook for School Nurses
Organization: GTBI
Year: 2011
Description: This handbook has been prepared for school nurses who may be responsible for implementing tuberculin testing programs in their schools or working in collaboration with community providers in both the public and private sectors to manage the care of a child with tuberculosis (TB) disease or latent TB infection (LTBI).
Format: Booklet

View PDF (620 KB)
Additional documents (forms):
Model Tuberculosis Prevention Program for College Campuses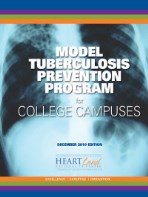 Organization: Heartland National TB Center.
Year: 2007
Description: This manual provides student health centers at colleges and universities with a guide for developing and implementing a TB screening and testing program. It includes many helpful resources that can be modified and used by individual campuses.
Format: Booklet

PDF
Back to Directory
Back to Homepage