TB Training Roadmap-Providing care for a person with TB infection
Training Materials
Core Curriculum on Tuberculosis, Chapter 5: Treatment for Latent Tuberculosis Infection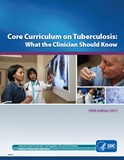 Organization: Centers for Disease Control and Prevention (CDC)
Year: 2011
Description: The Core Curriculum is intended for use as a self-study guide or reference manual for clinicians and other public health professionals caring for people with or at high risk for TB disease or infection. This chapter deals with treatment of TB infection.
Format: Manual

Link
Self-Study Modules on Tuberculosis Module 4: Treatment of Latent Tuberculosis Infection and Tuberculosis Disease
Sharing the Care: Working Together on LTBI Treatment and Management
Organization: Curry International Tuberculosis Center (CITC)
Year: 2014
Description: This training was created for physicians and other licensed medical professionals who diagnose and treat latent tuberculosis infection (LTBI). The training focused on risk assessment, diagnosis, and treatment options for LTBI. The 75-minute presentation was followed by a 15-minute Q & A session.
Format: Webinar (80 minutes)
Link
New Treatment Regimen for Latent Tuberculosis Infection
Organization: CDC
Year: 2012
Description: In this podcast, Dr. Kenneth Castro, Director of the Division of Tuberculosis Elimination, discusses the December 9, 2011 CDC guidelines for the use of a new regimen for the treatment of persons with latent tuberculosis infection.
Format: Podcast (3:16 minutes)

Link
Strategies for Ensuring Adherence to LTBI Treatment
Organization: GTBI
Year: 2008
Description: Explores successful and innovative approaches to ensuring adherence to LTBI treatment. Sound principles of behavioral science, flexibility, and a patient-centered approach are essential. Hands-on experts will explain how they are successful and how to tailor approaches to your own programs and patient populations. Case presentations are included.
Format: Webinar

Link

Targeting TB Testing and Treatment of Latent TB Infection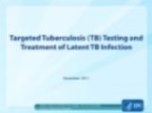 Organization: Centers for Disease Control and Prevention (CDC)
Year: 2011
Description: The slide set provides an overview of the current recommendations for the treatment of latent tuberculosis. The target audience for this slide set is primary health care providers.
Format: PowerPoint presentation

Link
Treatment of LTBI Multimedia Video
Resource Materials
Diagnosis and Treatment of Latent Tuberculosis Infection (LTBI)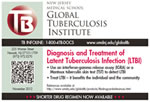 Latent Tuberculosis Infection (LTBI) Mobile Application for Health Care Providers

Organization: CDC
Year: 2013
Description: The Latent TB Infection (LTBI): Guide for Diagnosis and Treatment mobile application for health care providers makes it easy to find CDC's latest LTBI recommendations on your iPad, iPhone, iPod Touch, or Android device. When your device is connected to wireless or cellular service, the content is updated automatically to ensure you always have the most up-to-date information.
Format: App

Link
Latent Tuberculosis Infection: A Guide for Primary Health Care Providers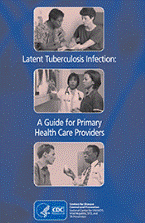 LTBI Card: Patient's TB Testing and Treatment Record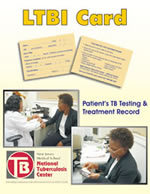 Organization: GTBI
Year: 2004
Description: Provides LTBI patients with a permanent record of their tuberculin skin test, chest x-ray and treatment status. Patients can carry the card at all times and show it whenever they are seen by a new healthcare provider. This card is available in PDF format and MS Word and is in multiple languages.
Format: Wallet-sized card and instructions
This material is available on-line only.

View PDF (4.1 MB)
Additional documents (forms):
Management of Latent Tuberculosis Infection in Children and Adolescents: A Guide for the Primary Care Provider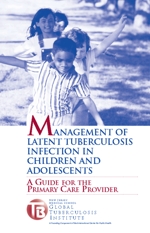 Organization: GTBI
Year: 2009
Description: This handbook is a resource for primary care providers. Topics include targeted testing, risk assessment, and treatment of LTBI in children and adolescents. Originally developed in 2004, this product was updated in 2009 to include the most recent recommendations found in the American Academy of Pediatrics 2009 edition of the Report of the Committee on Infectious Diseases (Red Book). A one-page addendum describing an additional treatment option was added in 2014.
Format: Booklet
Additional documents (forms):
TB Infection Patient Educational Materials
Organization: Massachusetts Department of Public Health Division of Global Populations and Infectious Disease Prevention
Year: 2014
Description:The goal of these materials is to teach patients about TB infection and to motivate them to start and complete treatment if diagnosed. The materials are designed to encourage provider-patient interactions for active learning through the process of testing and treatment decisions. There are four materials in this series and it is suggested to use the materials as a continuum, as they build upon each other.
Format: Factsheets

Link
Back to Directory
Back to Homepage