Training Strategies
Designing a Tuberculosis Standardized Patient Program for Medical Students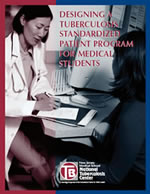 A Standardized Patient (SP) is an individual trained to portray a specific patient and to interact with the healthcare professional/worker as a patient. This manual provides TB SP scenarios designed to teach history taking, patient education and medical follow-up. The resource includes the methodology for providing this type of training as well as the tools required for implementation.

View PDF (2.1 MB)


Order Now
Ethics of Tuberculosis Prevention, Care and Control Training Curriculum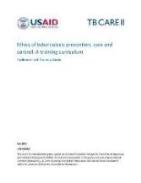 This curriculum for an Ethics of Tuberculosis Prevention, Care and Control training includes a facilitator-led training guide along with presentations and activities for the interactive 2-day course, which is intended for use in international settings. The training aims to introduce the concept of ethics in tuberculosis prevention, care and control and to sensitize and educate health care workers and TB Programme staff on the application of ethical values in their work. Course content is based on the World Health Organization's Guidance on the ethics of tuberculosis prevention, care and control released in 2010.

Link
Federally Qualified Health Centers (FQHC) Toolkit
Effective TB prevention and control requires a collaborative approach between many partners, including health departments or public health programs and providers in the community, including those at community health centers (CHCs) and federally qualified health centers (FQHCs). This toolkit is designed to provide key information for both health departments and community health centers, including FQHCs. The toolkit contains links to training and resources and suggestions on how they can be used by health departments and CHCs. The toolkit is intended as a resource for building partnerships and accessing relevant information. It is an evolving document, so please check frequently for updated information.
Link
Incorporating Tuberculosis Education into Nursing School Curricula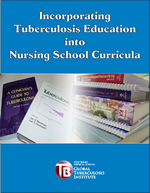 This online resource is designed to provide nursing school faculty with materials they can use to introduce students to the management of tuberculosis disease and infection. It includes a Faculty Guide, with an overview of tuberculosis, its pathogenesis and transmission, diagnostic criteria and treatment. It forms the basis of the course-specific modules, giving nursing faculty the most up-to-date information regarding TB. It also includes modules that contain learning objectives, PowerPoint ® slide presentations, case study and discussion questions, suggested readings and suggestions for clinical rotations.
Nursing school faculty members interested in accessing these materials should contact DJ McCabe at 973-972-0978 or mccabedj@umdnj.edu.

Acknowledgements (24 KB)
Mantoux Tuberculin Skin Testing - A Training Guide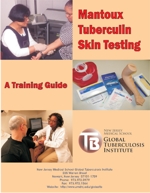 This training manual includes materials on TB fundamentals and administration, reading and interpretation of the Mantoux tuberculin skin test. It provides the methodology for training and educating staff. The manual includes lecture materials and teaching strategies for individual/group training, in addition to course participant materials.
This material is available on-line only.

View PDF (2.8 MB)

Additional documents (forms):
Planning & Implementing the TB Case Management Conference: A unique opportunity for networking, peer support and ongoing training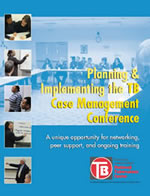 The case management conference provides a forum for networking, peer support and ongoing training to improve staff expertise in TB control interventions. This manual is a step-by-step guide for developing and conducting the case management conference. It includes guidelines for the conference coordinator, presenters and moderator in the form of "to-do" checklists, sample letters, presentation template and evaluations.
This material is available on-line only.

View PDF (4.1 MB)
Additional documents (forms):
TB Simulated Patients: A Training Resource for the Contact Investigation Interview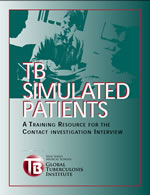 The manual describes the methods for utilizing patient scenarios for interviewing training and provides accompanying materials for the roles of the index patient, interviewer and supervisor/observer. The patient roles encompass a variety of life circumstances to provide the interviewer with opportunities for multiple skills development. Also included are guidelines for the supervisor to develop training, evaluate and provide feedback to new and experienced interviewers.

View PDF (120 KB)

Order Now
TB Training Roadmap for Public Health Nurses
To provide effective tuberculosis (TB) control and prevention activities, public health nurses should possess the necessary background knowledge and skills. This Training Roadmap allows you to design a personalized training guide, utilizing a wide range of existing resources. There are many TB resources available. The materials included in the Roadmap are our recommendations for a nurse new to TB. Many of these matrials are also appropriate for other TB staff, such as disease investigators.

View Link
Tuberculosis Case Management for Nurses Workshop: The Facilitator's Guide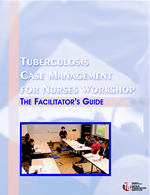 This resource outlines the process of planning and conducting a two-day, interactive workshop for TB nurse case managers and is available as an online product. Several of the sections are in PDF format, and for sections that are designed to be modified, the files are in MS Word.
Please contact Patty Woods at patty.woods@rutgers.edu if interested in this material.
Tuberculosis Education for School Nurses: A Trainer's Guide