Newsletter Fall 2020
Northeastern Spotlight
Fall 2020 Volume 15 – Number 2
TB Limelight – Patty Woods, MSN, RN
Patricia "Patty" Woods is a friendly and familiar face among the New Jersey TB community and beyond. As the State TB Nurse Consultant, she can often be found darting between the New Jersey Department of Health, the Global TB Institute, and throughout the local county chest clinics conducting consultations with other nurses and patients.  

Patty's journey into the caregiving profession began unexpectedly. She had a love for animals and wanted to be a veterinarian. However, Patty's love of teaching and her experience working as a candy striper at a local hospital drew her to nursing. Patty told us "Ever since I was thirteen, that feeling of helping people was what made me say, 'this is what I want to do.'"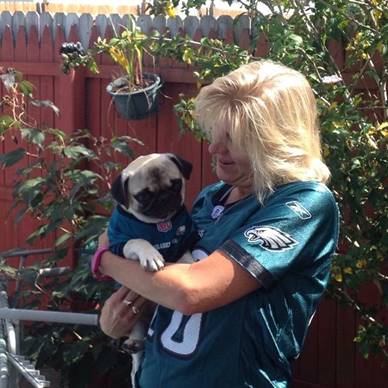 Patty and her beloved dog, MJ, cheer on their favorite football team.
After completing her Associate's degree in nursing, Patty explored roles working in the hospital and private provider setting for several years. Always seeking new experiences, Patty decided to take a break from nursing and channeled her love for animals into starting a pet store with her husband. While their pet store endeavor grew for many years, Patty found herself missing the healthcare field and began looking for opportunities to return to nursing. Soon after, Patty was recruited to work at the Middlesex County Health Department as the TB Clinic Coordinator. When asked about her transition to working in TB, Patty responded, "I just loved it. Every day was a new experience." Patty pointed to the diversity in cases as a major draw to the TB field - "It doesn't get boring. You never know what your day is going to be. When I first started, the circus was in town and they thought the elephants might have TB!" With a keen interest in TB and encouragement from her supervisor, Patty went on to complete both a Bachelor's and Master's degree in nursing. Shortly after completing her MSN, and at the onset of the H1N1 pandemic, Patty joined the New Jersey Department of Health as a Public Health Nurse Consultant. In this role, she wore many hats from providing consultations and developing procedures for professional staff, to conducting training programs for the medical and nursing communities.
In order to learn more about how nurses were handling TB cases in other states, Patty joined the National Tuberculosis Nurses Coalition (NTNC), where she went on to become Chair of the Education Committee. She was later elected as the NTNC President, where she worked to expand the development of educational nursing webinars, including the formation of the TB Nurse Case Conference webinars. "These nurse-led, nurse-centered webinars are conducted in partnership with the TB Centers of Excellence, a partnership Patty recognized as important for TB nurses" says Donna Wegener, Executive Director of the National Tuberculosis Controllers Association (NTCA), and a long-time colleague of Patty's. "Patty's insights into the most pressing issues confronting TB nurses on the front lines have resulted in very well-attended, well-received, and well-timed sessions focusing on topics as diverse as the PPD shortage to managing individuals with MDR-TB, and more recently, nurse case management for those co-infected with TB and COVID-19." Patty has remained involved with the NTNC since her role as past president, and Donna shared her thoughts regarding Patty's continued contributions to the organization – "After serving as the NTNC president, Patty remains engaged with the NTNC leadership, serving as a national nurse leader and educator. Patty is a national jewel, residing and working within the GTBI region. NTCA is grateful for her clinical and educational expertise and her passion for all things TB!"

Those who have had the pleasure of meeting Patty know that she is a great teacher.  Patty used her love of learning to give back when she returned to her alma mater, Kean University, as an Adjunct Professor at the School of Nursing where she taught classes in health assessment and transcultural nursing. Her time in academia provided an opportunity to show other students that they can always go back to school. "I went back to school later in life," Patty mentioned. "I think it provides good perspective and encouragement for students who want to go back to school. I want those students to know that they can do this and that I understand what they are going through." With an interest in focus on the education side of TB, Patty joined the Global Tuberculosis Institute team as a Health Educator while also serving as a Nurse Clinician at the Institute's Lattimore TB Clinic. In these roles, she worked on the development and implementation of TB educational activities for health care workers in the Northeast region, as well as provided clinical care for TB patients from the surrounding counties. However, Patty's passion for patient care led her to take on the Nurse Manager position for the clinic, where she supervised the care of TB patients, coordinated training activities for clinic staff, and shared best practices with outside providers. She also provided nursing consultation to individuals as part of COE TB consultation service at GTBI. The Institute's Executive Director, Dr. Alfred Lardizabal, provided some thoughts about Patty's time as Nurse Manager, "Patty championed TB patients with empathy and compassion, always seeking immediate solutions to their difficulties and challenges. She is always looking towards innovative solutions and new approaches in TB care." 

Patty believes that one of the biggest barriers to TB elimination is a lack of resources. She also understands the importance of getting private providers comfortable with managing LTBI and TB cases, and stated, "I want to show other providers outside TB that they can also manage these TB cases and that they can be a part of this effort." Patty sees education of and collaboration with medical providers as key to reducing the incidence of TB. "Everybody in the TB field knows everybody," Patty says, and "I want to find those people who are not necessarily in the TB world and get them engaged. That is the only way we are going to have TB elimination."

Patty and her colleagues at the New Jersey Department of Health share messages for a World TB Day campaign.
Currently, as a TB Nurse Consultant for the New Jersey Department of Health TB Program, Patty interacts with nurses from the state's 21 counties to provide specialized expertise and resources for the treatment and management of TB patients. Patty works to ensure that standards of TB care are maintained by meeting with institutions throughout the state, such as healthcare facilities and the Department of Corrections, to provide education and ensure understanding of current guidelines. One of Patty's favorite job responsibilities is providing education to the community. She explained, "I work closely with the Global Tuberculosis Institute and I will take advantage of any opportunity I find in the community to get involved in education." Patty also pushes to create new initiatives in TB and hopes to develop approaches that other programs around the country can use as models of care. Patty's passion and interest in innovative approaches to TB do not go unnoticed – "I have worked with Patty for the last 10 years and she brings a lot of good ideas to the table," says Frank Romano, Senior CDC Public Health Advisor at the NJ Department of Health, "She's an incredible problem solver," he adds.

One of Patty's future goals includes creating a centralized resource for health care workers in TB to access documentation needed for managing patients. In her words, "What I would love to do is create a manual or document for new nurses or new people to healthcare in New Jersey."  Patty gets many calls from health care workers across the state, looking for TB-related documents and resources, "We do not have a New Jersey-specific manual," she adds. 

When she is not busy multitasking at work, you may find Patty watching an Eagles football game at home or on the road, or flying to a tropical destination. Travel has become a big part of Patty's life. She caught the travel bug in her early 20s, and as she explained, "Once I got on that plane and went to the first destination, there was no stopping me!" She hopes to find a way to combine her love of travel and helping the community in the future. Patty also loves to write, and has several projects in the works, including a children's book and travel blog. "I love to write. A long time ago, I wrote a children's book. In the future, I hope I can get back to that."

We sure hope that Patty does not become a full-time children's book author just yet. The field of TB still needs her expertise and enthusiasm as we continue to work toward TB elimination.
Submitted by Olivia Dupont, MPH - Health Educator II