Northeastern Spotlight
Summer 2018 Volume 13 – Number 2
TB Limelight – Lee B. Reichman, MD, MPH
"If your actions inspire others to dream more, learn more, do more and become more, you are a leader." - John Quincy Adams
Those who are familiar with Dr. Lee Reichman would understand that the above quote aptly reflects his persona and the impact he has had on many lives. Dr. Lee Reichman was the founding Executive Director of Global Tuberculosis Institute (GTBI), as well as Professor of Medicine and Professor of Preventive Medicine and Community Health at New Jersey Medical School. He has played an instrumental role in the fight to eliminate tuberculosis (TB) on both national and international platforms. As of June 2018, Dr. Lee Reichman has retired from his role at GTBI and plans to spend time with his family and grandchildren. His prescient efforts and visible activities in TB over the past forty-five years have garnered him numerous accolades for his outstanding contributions to the control of TB, both scientifically and in the field.
Dr. Reichman received his Bachelor of Arts degree in 1960 from Oberlin College in Ohio; he spent a semester in Vienna as an undergraduate and found this experience to be thought provoking as he quickly caught the travel bug. This was also where he developed his interests in opera, particularly Wagner and Verdi. He earned his medical degree in 1964 from New York University School of Medicine; he later received The Solomon A. Berson Award for lifetime achievement in Health Sciences at his alma mater. After medical school, he served in the U.S. Public Health Service (PHS) in Bolivia. At the time, the draft service was in full effect for the Vietnam War to fill vacancies in the United States Armed Forces which could not be filled through voluntary means. Dr. Reichman, along with some of his colleagues who were pacifists, applied to become a Commissioned Officer in the PHS ("Yellow Beret") as an alternative to a two-year obligatory service in the Army, Navy or Air Force. He remembers, "I was hoping that they would send me to an urban setting or somewhere cosmopolitan but I was sent to a remote place in Bolivia, which was unexpected but was very valuable." The real world clinical experience presented while taking care of Peace Corps volunteers in Bolivia sparked Dr. Reichman's lifelong interest in TB and helped to shape his worldview. Subsequently, he completed residency and a pulmonary fellowship at Bellevue Hospital and Harlem Hospital, respectively. During his internship he met his mentor, renowned TB expert Dr. Julia M. Jones and also had the opportunity to work with her when he was Chief chest resident at Harlem Hospital. Dr. Reichman was fascinated by her work and quickly followed her footsteps, crediting Dr. Jones for encouraging him to work in TB.
When TB was becoming less "sexy" (his iconic description) and physicians interested in TB were in sanatoriums or had TB themselves, Dr. Reichman wanted to pursue academic medicine in the field. After two years as the Director of the Bureau of Tuberculosis Control in New York City, he took the position as Chief of the Pulmonary Division at New Jersey Medical School in Newark, NJ. At the time of his appointment, Newark had one of the highest rates of TB in the United States and, in 1993, he founded the National Tuberculosis Center where he worked with Dr. Reynard McDonald, his friend and colleague with whom he had trained in pulmonary medicine at Harlem Hospital. They widely used directly observed therapy (DOT) with dedicated outreach staff from the community to decrease rates of TB disease and eliminate "home-grown" drug resistance. He reflects that "it is important to understand the cooperation between academic institutions and state department of health helped to initiate efforts to decrease rates. Karen Galanowsky from the NJ Department of Health developed and implemented the idea of nurse case management which worked effectively with DOT to control TB."
Dr. Reichman has published well over 200 articles, scientific reviews and book chapters, particularly about the diagnosis, treatment, prevention, control, patient adherence with therapy and the epidemiology of and advocacy for issues related to TB and multi-drug resistant TB. He was one of the editors of the textbook "Tuberculosis: A Comprehensive International Approach," which was originally published in 1993 with the third edition published in 2006. The textbook is a valuable source of reference for tuberculosis consisting of chapters authored by TB experts from different areas of discipline. What followed was his popular book "Timebomb: the Global Epidemic of Multi-Drug Resistant Tuberculosis" published in 2001, in which he explained that failure to control basic TB disease would lead to an explosion of nearly untreatable multi-drug resistant TB, which one could argue aptly predicted the challenges that drug resistance poses today for the  effective treatment of TB on a global scale. The New York Times praised Timebomb and the book won many accolades as it was one of the first recent books on TB, specifically designed to engage a lay audience. Dr. Reichman has encouraged his mentees to publish their work on TB to demonstrate the awareness of TB whether it be clinical, epidemiological or educational.
Known not just as a prolific writer, Dr. Reichman has been invited to 48 countries for lectures, consultations, program evaluations and for program monitoring missions. His love for travel began at an early age. When asked about some of his favorite places to have visited, he says "The place I like the best is Philippines because it is convenient and they speak English. I also like parts of Asia including China and Japan - I enjoy the people and their culture." When he is not traveling the world to give invited lectures or to attend conferences, Dr. Reichman also travels for pleasure. Now that he has more time and flexibility with his schedule, he is able to enjoy trips to different parts of the world with his family and perhaps has already passed the travel bug down to his grandchildren.
Some of you may know of Dr. Reichman's love for bow ties, but not many know the reason why he likes them. "When I was a medical student, my tie would touch the cadavers and my mother would be annoyed with the unpleasant odor from my tie, [so] she encouraged me to wear bow ties. From then on, I have always worn bow ties; I have over 200 of them." This summer, GTBI's annual picnic was held to honor his retirement with an informal gathering of friends and family. This included good food (BBQ – Dr. Reichman's favorite) and fun games in the sunny outdoors. One game involved pinning a bow tie while blindfolded on an enlarged picture of Dr. Reichman. Much fun was had by children and adults who gave it their best shot, including Dr. Reichman himself!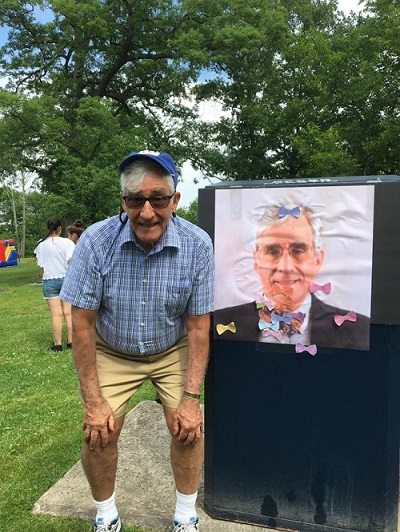 Dr. Reichman poses with his picture at the conclusion of the game. Can you count how many bow ties are on the picture? 
"The only advice I would give to medical students would be to not micromanage anyone and trust your team; all my success in NJ Medical School was due to the influences I had, I owe it to the field/outreach workers, nurses and my team. It is important to cooperate with the higher officers/officials, as they can recognize the work you do. Always understand where the power comes from which can assist you in the future."
The extent of his dedication towards educating is not only limited to his colleagues, patients and students but also reaches those outside the TB community. This include the public, policymakers and the media about the threat of TB and the effective way of treating patients and its consequences when services were not utilized sufficiently due to funding. During the TB resurgence in the 1990s, Dr. Reichman used his role as the then president of the American Lung Association to actively engage journalists and the public to not only inform others about the threat of TB but to simultaneously advocate for the need to provide adequate resources. He has established and directed his own highly acclaimed model treatment, prevention and training program as an irrefutable and sustaining demonstration of successful methods for addressing TB. It has been 27 years since Dr. Reichman's widely recognized and quoted editorial on the "U-Shaped Curve of Concern" which describes the effects of diminished funding, public health infrastructure and attention to TB. Ironically, this is just as relevant today with TB rates at an all-time low and TB advocates facing similar challenges for garnering appropriate funding, resources and political will needed to maintain progress toward TB elimination.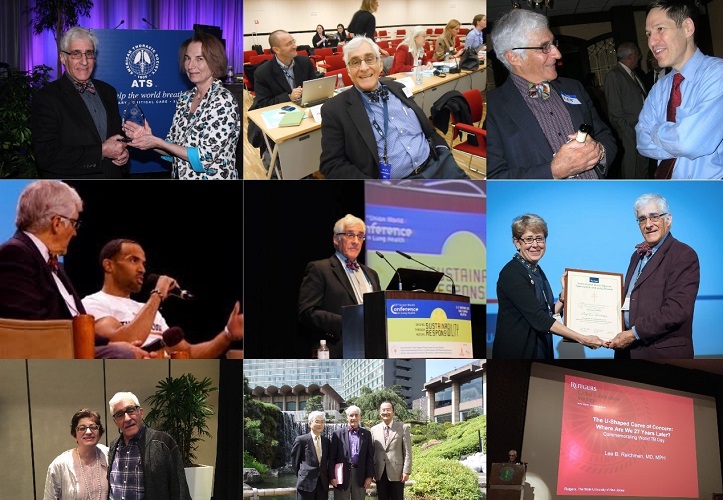 This collection of photos were part of a memory book that was presented to him at the picnic.
Throughout his career, Dr. Reichman has worked passionately in the fight against the global TB epidemic on a local, national and international level. As Dr. Reichman commences his retirement, he will truly be missed by his GTBI family, colleagues, mentees, and friends at New Jersey Medical School as well as many people around the world who have been influenced by his work. He is an exemplary clinician, an inspiring and pragmatic educator and an excellent communicator. His role as a spokesperson for the poor and underserved has brought new and consistent attention to other neglected diseases of poverty as well as comorbidities related to TB. Dr. Lee Reichman has left behind a legacy of continuous leadership and a lifelong commitment in TB advocacy. 
Submitted by Shwata Suresh Kumar, MPH – Health Educator