header("Content-type: text/html; charset=iso-8859-1"); ?>
Identifying Missed Opportunities for Preventing Tuberculosis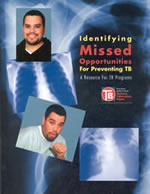 This manual is to be used with active TB cases to document the extent to which cases could have been prevented. The methodology identifies providers who served the patient prior to the TB diagnosis and points at which the provider failed to carry out targeted testing and treatment of LTBI recommendations. A questionnaire supplementing routine TB surveillance data is also included.
This material is available on-line only.
View PDF (3.9 MB)

Additional documents (forms):
Prior History Intake for TB Cases and Suspects (page 14-15) (92 KB) [DOC]
Health Care Facilities by Facility Name (example in Appendix 2a) (15 KB) [XLS]
Missed Opportunities Summary Form (Appendix 9) (20 KB) [XLS]
© 2021, Rutgers, The State University of New Jersey. All rights reserved.
225 Warren Street, Newark, New Jersey 07103
973-972-3270
globaltbinstitute@njms.rutgers.edu