Please take a few minutes to complete our product evaluation survey.
What Parents Need to Know About Tuberculosis (TB) Infection In Children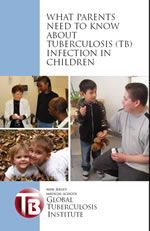 This brochure provides parents with important information on tuberculosis infection in children. It is designed in a question and answer format with highlighted information for quick and easy readability. The information covered ranges from the definitions of tuberculosis (TB) infection and TB disease to diagnosis and treatment of TB infection. In addition, tips on treatment improving adherence are provided to ensure completion.
The brochure can be distributed to parents of children with latent tuberculosis infection and can also used by health care providers when providing education on LTBI to parents. This product is intended to be downloaded, printed and distributed at health department clinics or other locations where treatment of children with LTBI is provided.
The brochure is available online only and may be printed and distributed as is, or modified to include specific contact information for your clinic by:
Typing or writing clinic information in the designated spot on the back of the brochure
Placing a label containing clinic information on the printed brochure
Using Adobe Acrobat PDF Writer to electronically add clinic information to the brochure
For technical assistance with this product, please contact Anita Khilall at anita.khilall@rutgers.edu or at (973) 972-9102.
This material is available on-line only.
This material only includes tips for the use of INH in the treatment of latent TB infection and is currently being updated.