header("Content-type: text/html; charset=iso-8859-1"); ?>
Please take a few minutes to complete our product evaluation survey.
Treatment of Tuberculosis: Standard Therapy for Active Disease in Children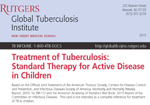 This pocket-size drug treatment card for clinicians provides information on the standard anti-tuberculosis therapy for active disease in children, including dosages, daily and intermittent regimens, side effects, treatment information and visual depictions of first-line medications.
© 2022, Rutgers, The State University of New Jersey. All rights reserved.
225 Warren Street, Newark, New Jersey 07103
973-972-3270
globaltbinstitute@njms.rutgers.edu