header("Content-type: text/html; charset=iso-8859-1"); ?>
Mantoux Tuberculin Skin Testing - A Training Guide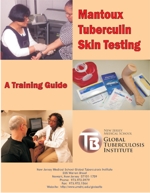 This training manual includes materials on TB fundamentals and administration, reading and interpretation of the Mantoux tuberculin skin test. It provides the methodology for training and educating staff. The manual includes lecture materials and teaching strategies for individual/group training, in addition to course participant materials.
This material is available on-line only.
View PDF
Additional documents (forms):
© 2022, Rutgers, The State University of New Jersey. All rights reserved.
225 Warren Street, Newark, New Jersey 07103
973-972-3270
globaltbinstitute@njms.rutgers.edu